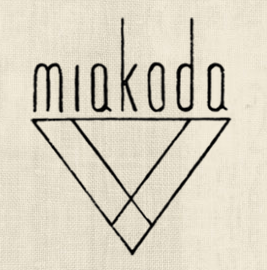 After discovering Miakoda on tumblr (don't you just love the internet?) I've followed every status update, tweet and Instagram owner/designer Julia Ahrens has posted, including but not limited to pictures of her pet rat and beyond impressive yoga poses. Oh, and the clothes! Which you can also do yoga in while tending to a pet rat. Seriously, her clothing is made for yoga goddesses and fashionistas everywhere.
Miakoda, which means "power of the moon" is brand new to the marketplace and just launched it's first collection this past summer. From the hand knit warm and adorable tabi socks to a sweatshirt dress that's daily uniform worthy, this cruelty free, vegan, fair trade and eco friendly brand specializing in knits offers up something for everyone. Julia proves you don't have to sacrifice style for comfort, which is good because as I conducted this interview I was in my pajamas- at 2pm. I probably wouldn't have felt so guilty if I was wearing Miakoda.
Read on for what sparked her interest in veganism (it's the best story I've ever heard, totally worth reading!) and for all the details behind the clothes.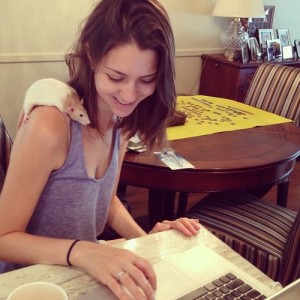 Tell us about yourself and what led you to veganism.
When I was 11 I took home a snake. I've always been a huge animal fanatic, like obsessed with them. Growing up we've always had pets. We've had 5 cats, a dog, a pigeon, I used to have a hedgehog, I have a rat- like every pet we've had it! Over Christmas break I begged my parents to let me take home the class pet snake. Meanwhile it ate mice and I had pet mice so my dad was like "It's okay, I'll feed it, it means a lot to you." It was staying downstairs it my basement and I went to check on it before I went to sleep and it was cuddled up on it's heat rock next to the mouse, which it didn't eat. So went I upstairs and was traumatized and said "We need to save the mouse, it can't die!" And my parents told me "If it's still there in the morning you can keep it as a pet." So of course all night I have my fingers crossed it doesn't eat this mouse but the morning comes and I run downstairs and the mouse is gone. I was so heartbroken and terrified. My mom was like "Julia, you know it has to eat, just like you have chicken and you have hamburgers.." And I was like oh my god, I'm killing animals! It was the first time it ever dawned on me that meat is a dead animal. From that point on I never ate meat. And then I went to school for fashion, I went to Parsons and graduated May 2012. The whole time I was there everyone said "Well you're a vegetarian but why are you wearing those pony-haired shoes?" I never wore fur because I thought it was disgusting, but I don't know why it's any different than leather but for some reason in my head it was. It was such a moral conflict because I loved all this fashion but I couldn't admit that it wrong and that I shouldn't be doing it. But I was thinking at least I'm not eating meat which is more than them. I never really thought about veganism, I didn't really understand what it was. Like, "what's wrong with milk, they don't kill the cow." I didn't even know factory farming existed. I was just a vegetarian because I didn't want to eat a dead body, that's disgusting. Randomly the end of my junior year in college I was so sick of everyone saying "Oh you're a vegetarian but you still wear leather." So I wanted to see what veganism was all about- these people can't just be crazy. So I researched it but the hardest thing holding me back from going vegan was I didn't want to have to worry about not wearing leather, silk and wool and all this stuff. But the more I found out about this I was like oh my gosh I need to do this. All these industries are disgusting. It started really bothering me. I finished my fashion internship through senior year but was like I didn't want to be part of the fashion if it was going to be harming so many people and animals and the environment. It felt so contradictory to my whole belief system. Also at the same time I started practicing yoga because my sister and mom finished their yoga teacher training and all the philosophies of yoga are non-harming, respecting yourself, respecting the planet, respecting others. After graduating I was thinking where am I going to work? There are so few vegan companies and most of them are really small so I thought I need to start my own company that aligns with my own principles and morals and also doesn't give up everything I've ever loved with fashion and designing.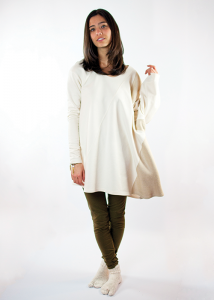 Can you explain your process of designing and creating a full collection?
I always start off with some kind of inspiration. It doesn't necessarily stick to that exact inspiration but I pull in a lot of "I imagine this girl wearing this in this setting." So for the first collection, I was inspired by zen gardens. When I was in Portland I went to their Japanese gardens and I wondered what would a girl be wearing if she was meditating at these gardens? Or if this was her house, what would she wear? I know people in school would be inspired by objects or things, but I just like the general feel of it. I also don't want it to be unrealistic. I want to create stuff people actually want to wear. I always think what do I want to wear his season and then what do people want to wear? I merge those two together. For our next collection that's coming out I was inspired by enchanted forests and what would a girl in this magical forest be wearing.
Is sourcing materials that meet your standards difficult?
From there it's always really difficult to deal with eco-friendly fabrics. It's really hard to find organic, quality fabric so that's one of the biggest struggles I've had so far. Also finding colors, because the first collection was a lot of beiges because they're naturally that color so it's very easy to find fabrics like that. Now I'm trying to find other colors.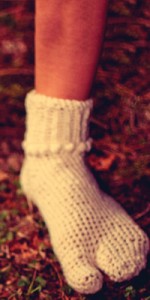 We all know the importance of buying vegan, but can you explain why fair trade is just as vital?
We have all of our stuff made in the USA and the reason why we decided to do that not worry about working overseas is because first it gives people in America jobs. I'm all about helping people around the world, but I think it's super important to help those closest to you. So many people forget about Americans and the need for jobs when we look at really horrible things going on in other countries. Also, we like to make sure our workers are treated well. When people are overseas, you don't necessarily see everything that's going on. I saw an article that the average a person gets paid to make a polo is like 12 cents. That is not even fathomable to me-having MADE clothing. We like to work work local because you also cut out all the costs like shipping and detrimental environmental stuff. You can make sure everyone is being treated fairly and you're not contributing to any harm to humans. I know people are always "Vegans only care about the animals! They don't care about the humans!" But no, we care about everyone!
What's your longterm vision for Miakoda?
Ideally I would LOVE to have our collection in a bunch of stores. Down the road I would love to have my own storefront. I know when I see something online I'm like that's super cute, I would love to own that but I can't go try it on and feel it and touch it and fall in love with it so I might not buy it. I would like to be in more storefronts so it's more accessible to people. Right now I've been targeting the niche market of vegan fashion but I would love for it be general fashion. My overall goal is for people who don't necessarily care about the environment or animals or veganism or people's welfare will buy the clothing because they like it and think it's cute. And that decision will have a positive impact on the world. Most people, unfortunately, don't really care. So I'd love for their decision, whether they know it or not, to buy Miakoda is helping the people.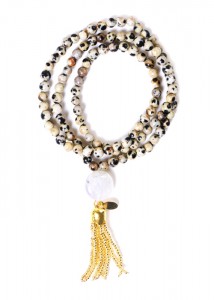 Can you tell me about the wrist malas you sell?
Malas are used in a lot of meditations and they have 108 beads, which is a sacred number. There is also a guru bead and a tassel. What you're supposed to do with them is go through each bead and say a mantra, even if that mantra is "omm, omm" and you do it 108 times because it's a sacred number. Or your mantra can be a personal mantra like "I am at peace". It's a way of calming your brain and focusing on one thing so you can control your thoughts and the fluctuations of your mind. I have a bunch of malas from different designers and yoga studios and I like wearing them because they remind me to just stay calm and centered, spiritual and grounded and it's all good! I pick certain types of stone I want to use for them that evoke different properties. Miakoda means power of the moon so we always have a moonstone ruby on all of them. Moonstones are really good for spiritual development.
How would you describe your style?
My personal style is probably refined clean grunge. I really like grungy silhouettes like drop crotch pants, really slouchy, oversized clothing. But I like it to be very clean, so white, plain black, stuff like that.
What's your favorite item in the first collection?
Definitely the slouchy pants and sweatshirt. I love them! I live in them.
Who would you like to wear your clothes?
Alicia Silverstone and Gabriel Burnstein. Gabriel Bernstein is a meditation, spiritual goddess.
What charities do you support?
Off the mat into the world is a big yoga charity. Also, I'm really personally passionate about supporting farm sanctuaries. I really want to go visit them because I haven't been to any of them. I've donated money but to actually go someplace and volunteer is my goal. Because giving money is great and I know that's important but I feel like it would be such a good experience to go volunteer.
I know you do yoga. What's your favorite yoga position?
I like practicing forearm balance because it's really challenging everyday. But I think the pose that feels the best are spinal twists, I love them! They feel great.. the hour and a half on my yoga mat is the most joyful part of my day.
Julia is so sweet and such an inspiring person and designer. You can find her clothes on Miakoda as well as the online marketplaces Modavanti and Open Sky. Miakoda's second collection just came out and her first collection is on sale on her site, so go buy yourself some warm and fuzzy winter staples!
All photos courtesy of Miakoda