When I do my hair after I shower at night, it's like watching an epic battle from Troy. Me versus the brush. The knots are out of control. I was tearing my hair out (pun intended). So much so that I gave up on hairbrushes months ago and have been finger brushing my hair for the good part of a year. Gross, I know. And very knotty.
But when you experience the excruciating pain that is pulling your hair out of your head, perhaps you would give up too.
I recently summoned the courage to buy a new brush and try this brushing my hair thing again. Not long after I settled on a cheap Conair with plastic bristles was I offered the chance to review a cool line of bath and beauty products called Camille Rose Naturals. And what do you know? They sent me some detangler potion for my hair along . Coincidence? I think knot. I mean not.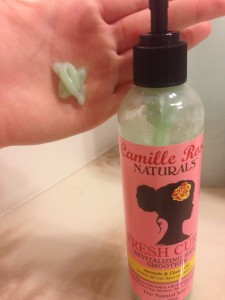 I stroked the Fresh Curl Revitalizing Hair Smoother through my damp hair after showering one night, brushed it out (without pain!), tied it up in a messy bun and went to sleep. When I woke up, I unraveled the bun and was amazed at my frizz-free fluffed coif. I was definitely the envy of poodles everywhere. My hair isn't naturally curly, just a bit wavy, but putting it in a bun helps the waves form. Without product, it looks like I stuck my hand in a socket. On a good day, I look like I came from the beach. While cute, it is always knotty.
So with this hair gel my hair was taken to new heights.
And, this is very important, my hair smelled yummy! Formulated with avocado and caster seed oil and scented with Peach Quava it's like an uplifting day at the beach.
I forever envied girls whose hair smelled pretty whether after showering or doing their hair. For some reason, my hair never held the scent of products. I joke that I blow dry the scent out of my hair. To my delight and surprise, this not only made my hair smell yummy the second I put it on… but it still smelled good the next morning!!
My hair was soft, non-greasy, and dare I say… bouncy?
It helped with some static on rainy days and even provided some non crunchy scrunch when I rubbed it in my hands and scrunched my hair in chunks.
All in all I would recommend this product for curly haired girls or girls like me that want in on the detangler and pretty scent action.
You can scoop it up on their site, in Target, or your local Whole Foods.