Don't expect to walk into this new pizzeria in Vancouver's Chinatown and pick your own toppings. Chef Jim Vesal isn't into the build-your-own model. "You wouldn't go to a fine dining restaurant and ask to modify the chef's special," he says. He and co-owner Lia Loukas have put a lot of energy and thought into getting the unusual pizza combinations at Virtuous Pie just right. And it's paying off. Since they opened in September, customers are lining up out the door.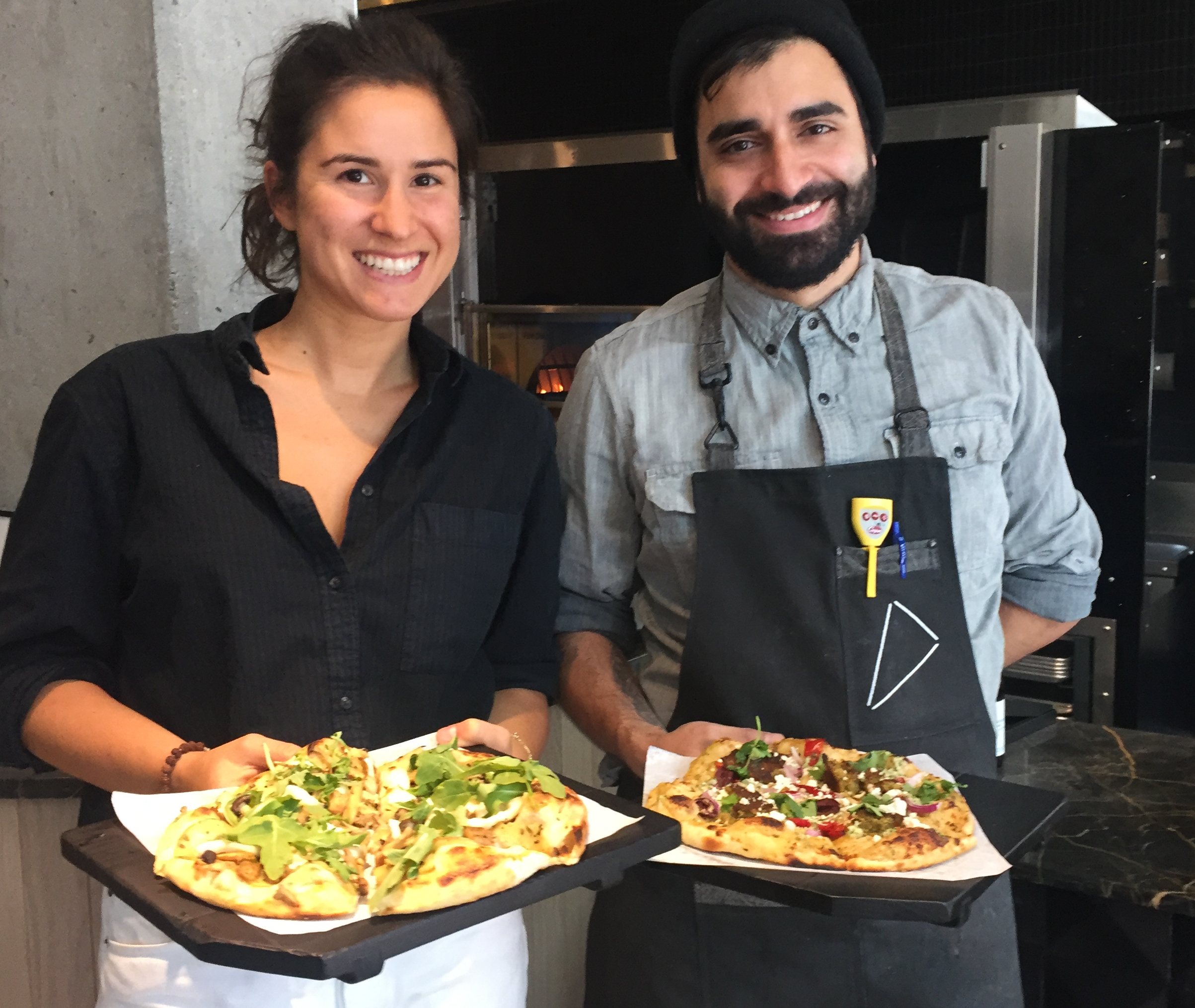 Vesal and Loukas want to bring affordable, sustainable food to the people via their plant-based pizza and ice cream restaurant. And they want to move customers in and out fast, especially during the lunch hour, when busy people often succumb to fast food because they don't have time for something better.
It's pizza for lunch, and pizza quickly, says Vesal. "It's all plant-based, so even the heaviest is still fairly light. You won't leave feeling really bloated, like you just ate a big calorie bomb."
Don't say the V word
At Virtuous Pie, they're a little sensitive about the "v" word. "One of the things I wanted to focus on was removing the stigma of 'the vegan option,'" Vesal says. "If you have a vegan option, a carnivore's immediate reaction is that's not great. The menu is not designed for a vegan option, but for a good option."
Loukas and Vesal intend to attract omnivores, not just veg folks. "We want people to think of pizza first, plant-based second. Whatever your dietary habits, we would have an option just as compelling as at a non-vegan restaurant." This is one of the reasons you won't find fake meat on the menu. "For meat eaters, real pepperoni will win," Vesal says. "So we had to create something they can't get elsewhere."
Meet the Pizzas
Each of the menu's eight options are sold individual, ten-inch pizzas. One of their first decisions was to not use commercial cheese substitutes. "We have a strong focus on creating everything in-house, including our nut-based cheeses," Loukas says. "Jim spent a lot of time developing the recipes." They use three types: Cashew mozzarella, almond ricotta and tofu-based feta.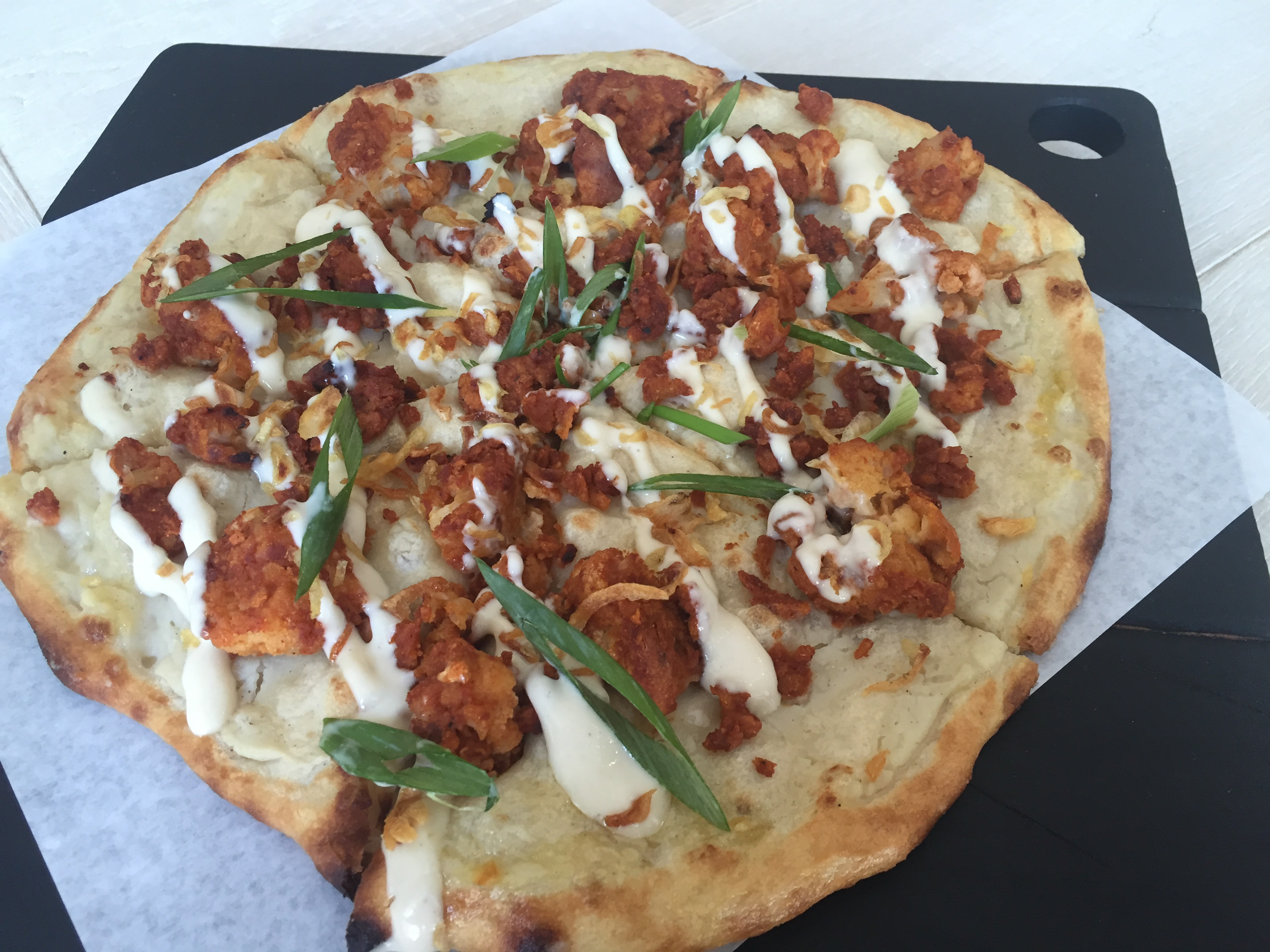 Virtuous Pie's most familiar pizza is the margherita, and a must-have as far as Vesal is concerned. "Margheritas are a litmus test, a baseline. You can compare them between restaurants. Our margherita is pretty damn close to traditional. We want to be the best in the city."
The Kim Jack is at the other end of the familiarity scale. It's a Korean-inspired pizza with jackfruit, hoisin, kimchi, Korean chili paste, miso, and broccolini. Vesal describes it as "off the rails."
The Med is topped with falafel, baba ganouj and chutney. The Cavaletto features Brussels sprouts and tempeh bacon. "No two pizzas are alike, and no two taste the same," Vesal says.
For Dessert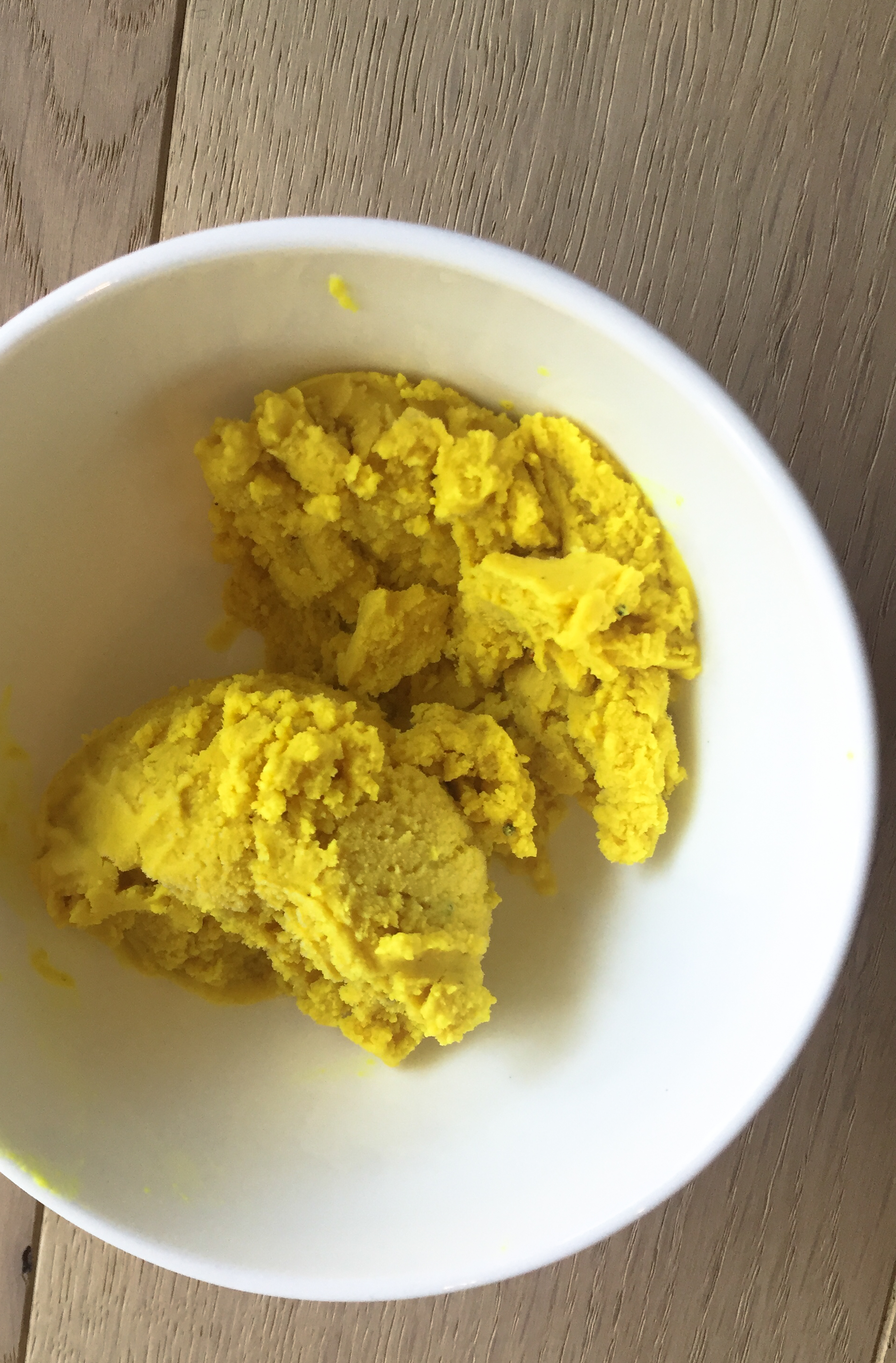 After pizza, it's time for coconut or cashew-based ice cream. Some flavors are straightforwardly delicious, such as mint chip and peanut butter cookie dough. Others are more imaginative, like the bright gold turmeric black pepper. Virtuous Pie teamed up with local low-sugar jam maker East Van Jam for its peach jam and basil ice cream. Guests can buy ice cream by the scoop or the pint.
Making a Difference
Vesal and Loukas have complementary skills. Loukas grew up in her father's Greek restaurant, studied nutrition and health sciences at university, then worked in marketing in the UK. Vesal planned to study law but realized his heart was in the restaurant business. He worked his way up from dishwasher to chef.
Both are passionate about Virtuous Pie. "I have an opportunity to make a difference by educating people on what it's like to eat in a way that's sustainable," Vesal says. "I want to make it easy for people to make the better choice."
The staff welcomes guests, no matter their dietary choices.  Vesal describes himself as flexitarian working towards vegan. "It's always been a struggle between what I know is right and how I act," he says. "If I can eat vegan pizza every day for the rest of my life, I could easily be vegan."
Loukas believes in using diet as medicine. "You can see how diet can really affect you, the health of the planet and animal welfare," she says. Both owners avoid a hostile environment at all costs. "We're advocates, not activists," Loukas says.