Tart, sweet, decadent strawberry vegan cheesecake cupcakes get their pretty color from an all natural, secret ingredient.
I first made these vegan strawberry cheesecake cupcakes for my son's third birthday, and he demolished them! They're super simple to make, and there's no need to soak your cashews overnight. They're quick, easy, and there's still no baking required. Hurrah!
More mini cheesecake goodness: Teaslies, Chocolate Cheesecakes, Probiotic Mini Cheesecakes
The big change I made with this batch was dyeing them pink. I don't want to feed Darrol artificial coloring if I can, so I decided to experiment with a substitution to make a natural dye. And it worked!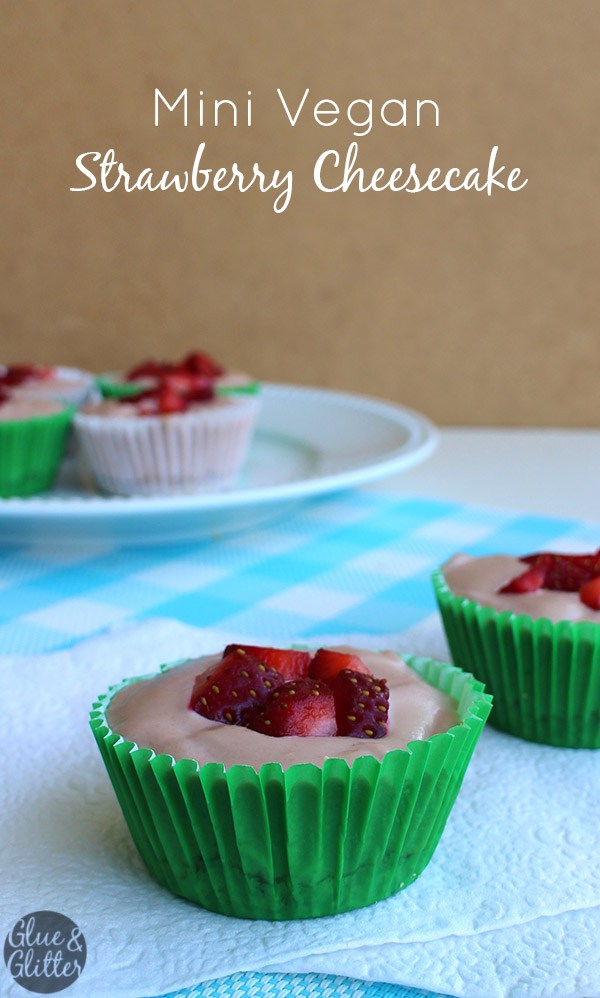 The secret to the pretty, pink color of these cheesecake cupcakes is unsweetened cranberry juice. Usually, I use lemon juice to give my cheesecake a tart edge, but cranberry gives a similar, nice tartness along with a splash of color. I'm pretty jazzed about it!
Vegan Strawberry Cheesecake Cupcakes
Yield: 12 cheesecakes
Ingredients
3 cups

raw cashews (Roasted cashews will not work here. They'll yield a grainy cheesecake. YUCK!)

1 cup

almonds (Raw or roasted, unsalted will work fine. You don't want salted. Trust me.)

4 large or 6 small pitted

Medjool dates (about 1/4 cup)

1 cup

Earth Balance (I used one of their sticks, to make measuring easy), not melted

3/4 cup unsweetened

 cranberry juice

1/3 cup

agave nectar OR maple syrup

about 1 cup fresh strawberries, chopped
Cooking Directions
Quick-soak your cashews. Boil 2 cups of water, and pour enough of the hot water over the cashews to completely cover them. Let them soak for at least 10 minutes, then drain. This is a good time to make your crust, so let's do that!
Blend up the almonds and transfer to a small bowl. You're going for almond meal here, not almond butter. It should be a little bit rougher than cornmeal in texture. Some bigger chunks of almond are even okay.
Blend the dates until they're as smooth as you can get them, and add them to the almonds, then mix until you have a crumbly dough. I've found that the best way to do this is to just dig in with clean hands, and knead until they're incorporated. The dough should be pretty crumbly and a little bit sticky. You're going to feel at this point like there is no way this will work, but it will. Some excess moisture from the cheesecake layer will add moisture to these babies as they chill.
Divide the almond-date mixture between 12 lined muffin tins, pressing very firmly into the bottom of the pan. When pressed, the mixture should fill each cup about 1/4″ full. If you end up with a little bit of leftover mixture, keep it! It's great mixed into oatmeal or soy yogurt!
Blend the soaked and drained cashews, Earth Balance, cranberry juice, and agave until you have a smooth mixture.
Spoon  about 1 heaping tablespoon of the cashew mixture into each muffin cup, then tap and gently shake the pan to even out the filling. At this point, your cups will be about 1/3 to 1/2 full.
Top each cup with about a tablespoon of strawberry pieces, then top off with enough cashew mixture to fill the cups. Decorate each cheesecake with more strawberry pieces on top.
Chill in the freezer for 90 minutes, until they're totally firm, then transfer to a flat container with a lid. Store to the refrigerator until you're ready to serve; they'll keep for 2-3 days in the fridge.
Republished with permission from Glue and Glitter.