While Portland, Oregon has many wonderful vegetarian restaurants, its hotels can still be a little behind the times for vegan options. But two of Portland's upscale hotels are especially good for traveling vegans.
Both the Sentinel and The Nines have two restaurants, and ironically each could sport a bumper sticker saying, "My other restaurant is a steakhouse." But skip the steakhouses and you'll find the Sentinel's Jackknife Bar and The Nines' Departure restaurant offer many vegan selections.
Jackknife Bar
Developed by the same owners of notable local vegan bars The Sweet Hereafter and The Bye and Bye, The Jackknife Bar isn't entirely vegan but has many vegan menu choices. The interior can be a bit dark and loud, but the fireplace is lovely, as are the wood floors, walls and tables.
While they serve a vegan burger, many of their options are more unusual. Deep-fried potato and vegan cheese dumplings are served with house-made kraut and vegan sour cream. A vegan mac and cheese has an herb panko crust. On the server's suggestion, I tried the vegan crab cake bites with grilled bell pepper, onion, and chili aioli. I don't think I ever ate a crab cake so am not sure how they're supposed to taste, but the vegan crab cake bites were really good. One of the front desk people told me the Jackknife has the best French fries in Portland.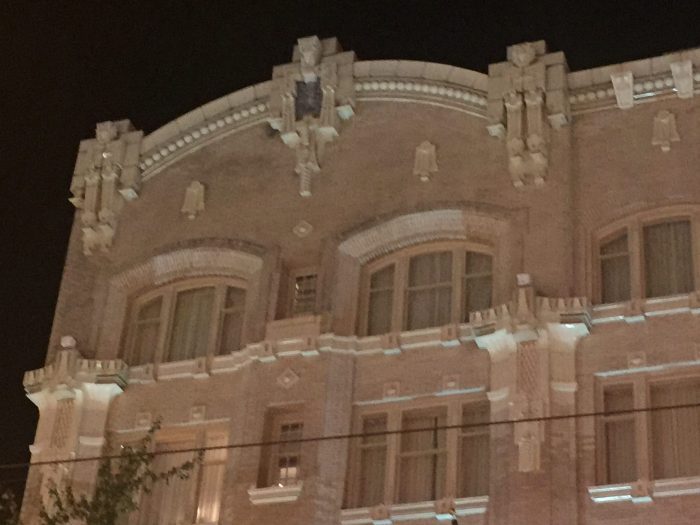 If you visit, make sure to snoop around the hotel as much as possible. The Sentinel is very historic, composed of what used to be two different buildings: the Seward Hotel and the Elks Lodge. Check out the intricately carved ceiling in the lobby, and the strange, robotic looking gargoyles on the exterior, designed by the architect William Christmas Knighton in 1910.
Departure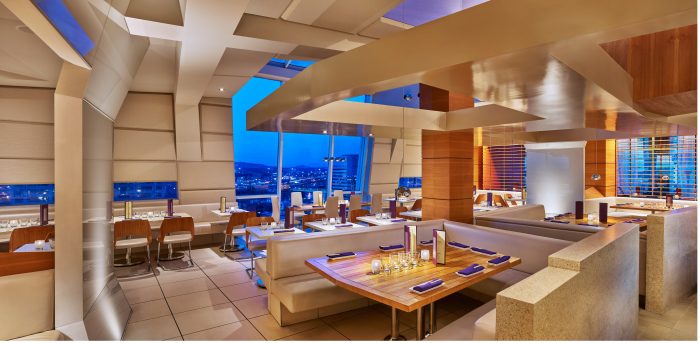 Departure has one of the coolest entryways. You ride the elevator up to the fifteenth floor of The Nines, then emerge into a hallway lit with purple light panels. Follow the hallway and you wind up in a restaurant reminiscent of a space ship, with spacy electronica music playing. The hostess asks those magic words: "Do you need a special menu? We have vegan or gluten-free."
The next best thing to a veg restaurant is one that has a dedicated veg menu. And I loved that the hostess offered it to me first thing, rather than having to request it. I like that veganism has become mainstream enough for this to happen. At least, in Portland.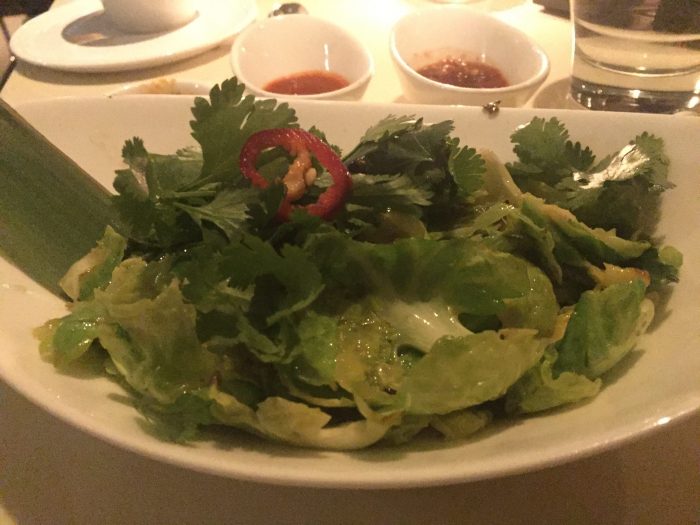 Departure is the work of Top Chef finalist Gregory Gourdet, who I've heard has a lot of vegan friends. His pan-Asian vegan menu is divided into several sections: salads, sushi rolls, dim sum, wok-fired dishes, chef recommendations. Dishes are smallish, to encourage ordering a bunch of stuff and sharing. Since there are about 20 vegan choices, it was very hard to decide. I finally chose a root vegetable sushi roll, a steamed bun filled with tempeh and kim chi, and Brussels sprouts in chili and lime sauce. I especially liked the steamed bun, which came off the dim sum section of the menu. The excellent Brussels sprouts are offered in both a vegan and non-vegan version, and are one of the restaurant's most popular items, the server told me. The vegan version doesn't include fish sauce.
I was too full for dessert, but five out of six of Departure's desserts were vegan! I considered getting one to go for later, but they were all complex and melty, made to be eaten in the restaurant. For example, the coconut and vanilla custard features hazelnut crunch, makrut lime, Asian pear and marionberry sherbet. If only I hadn't eaten so many Brussels sprouts…
The Nines is a wonderful hotel, very posh and glamorous while conscientiously eco-friendly. A LEED Silver Certified Hotel, The Nines receives 100 percent of its energy from renewable sources. Its engineers designed a plumbing system to save 500,000 gallons of water annually. The lobby is modern and artsy, swathed in silver and white hound's tooth wallpaper and sprinkled with naked mannequins.
So, visiting vegans, my two picks: If you like historic buildings, stay at the Sentinel. If you prefer ultra-modern, go with The Nines. But try to eat at both.