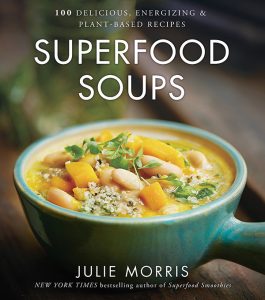 I'm going to have to admit that I'm not that really into soup. I know people who go nuts for a bowl of hot piping chowder or bisque, but I've never really seen the appeal. Don't get me wrong – I don't mind like a hearty stew or a thick and creamy soup from time to time, but I'm not much into stuff floating around in broth. So, when I was offered a copy of Julie Morris's new book Superfood Soups to review, I was going to say no. But on second thought, maybe a book on soup would help me understand its allure.
Right away, I was really impressed with Superfood Soups based on the shear amount of information that Julie put into it. The book is divided into three parts: The Renaissance of Soup, The Soups, and Extras.
You'll find all sorts of interesting information and helpful tips in The Renaissance of Soup. Julie shares soup basics, with information on base ingredients, seasonings, aromatics and add-ins. Here you'll learn how to properly cook dried beans and what superfoods Julie suggests keeping stocked in your pantry. In case you're wondering exactly what superfoods are, they're those plant-based nutritional powerhouses that you're always hearing about, such as mushrooms, greens, sea vegetables, seeds, and grains.
The Soups is where you'll find recipes for 100 nutrient-dense vegans. The recipes include broths, chilled soups, creamy soups, chowders, stews, and more. There are even recipes for soup accountrementes, such as coconut bacon bits and cashew sour cream. Since each recipe offers its own unique benefits, they're labeled to let you know exactly what specific health concern they address. Some are good for the heart or bones, while others are good for detoxing or boosting immunity.
I found myself drooling my way through the chapter, marking off recipe after recipe that I want to try, and marveling at the gorgeous photos. Smoky Pumpkin Soup with Candied Seed Clusters? Yes, please! Truffled Asparagus Soup? Uh-huh! Cheesy Broccoli Soup? Git in ma belly!
In Extras, you'll find a superfood substitution cheat sheet and conversion charts, There's also a resource guide, in case you have a difficult time finding superfoods in your area.
I think Superfood Soups has turned me into a soup lover after all!
 
Many Greens Soup
Too cold to have a salad? Here's your answer in a cup of cozy soup. You can use any variety of baby greens in this soup—spinach, watercress, baby beet greens, etc. Just be sure not to include lettuces, which don't heat well.
Makes 6 cups / 4 servings
Ingredients
4 cups miso broth
½ cup raw cashews
1 tablespoon olive oil
2 medium leeks, white and light green parts only, thinly sliced
3 cloves garlic, minced
1 tablespoon fresh thyme, minced
½ lb broccoli, stem peeled and finely chopped, florets chopped small (about 4 cups)
1 cup fresh or frozen peas
6 oz mixed dark baby greens, like spinach, arugula, and kale (about 6 cups, packed)
½ cup (packed) chopped parsley
2 Tbsp fresh lemon juice
Sea salt and ground black pepper
Fresh chives for serving (optional)
Thinly sliced radishes for serving (optional)
Preparation
In a blender, combine the broth and cashews, and process until smooth. Set aside momentarily.
Warm the oil in a large heavy-bottomed pot over medium heat. Once hot, add the leeks, and saute for 3–4 minutes, stirring occasionally to soften. Mix in the garlic and cook for 1 minute longer. Add the blended cashew-miso broth, thyme, broccoli, and peas, and bring to a simmer over medium-high heat. Partially cover, leaving the lid slightly ajar, and reduce the heat to medium-low. Cook the mixture for 5 minutes, or until the broccoli is bright green and tender. Uncover and add the baby greens and parsley. Stirring constantly, cook for no more than 1 minute longer, just long enough to wilt the greens. Remove the pot from the heat and transfer the mixture to the blender. Add the lemon juice, ¼ teaspoon sea salt, and ½ teaspoon ground black pepper. Blend until very smooth—this make take a moment. Taste for seasoning and adjust if needed. Ladle into soup bowls and garnish with fresh chives and radish slices, if desired.
Feel Good Fact: From a molecular standpoint, the chlorophyll found in green foods is very similar to hemoglobin, a critical part of our blood that is responsible for transporting oxygen. This explains why chlorophyll-rich vegetables are so effective in replenishing our red blood cells, aiding in increased purification, oxygenation, and energy.
Reprinted with permission from Superfood Soups © 2016 by Julie Morris, Sterling Publishing Co., Inc. Photography by Oliver Barth