Chic Vegan contributor, Sascha Mejeritcher, is a former actress turned writer.  Sascha was born in Russia, raised in Sweden, and has lived in Italy and California.  Sascha has a passion for vegan fashion and cruelty-free beauty.  She also loves traveling, listening to loud music, drinking coffee and volunteering at animal shelters.  Read more about Sascha's daily adventures at her blog, Coffee and Heels.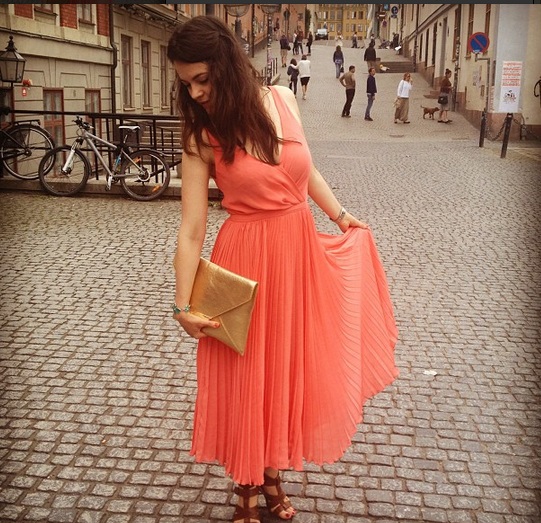 Chic Vegan:  How long have you been a vegan?
I just celebrated my first vegan anniversary in June!
Chic Vegan:  Who or what inspired you to make the change to a vegan lifestyle?
I had been pescetarian and vegetarian since I was 11.  When I found out more about the milk and egg industry, it didn't make sense to eat dairy any more.  I wanted to live as compassionately as I possibly could, which also meant saying no to wearing animal products and using products tested on animals.
Chic Vegan:  If you could give someone who's thinking of going vegan advice, what would you say?
Find out as much info about vegan life as you can – read up on your new lifestyle!  Don't be daunted by it.  I'm a huge advocate of taking it step-by-step, even if a lot of people go cold turkey and are successful.  And don't beat yourself up if you mess up – it WILL happen and it's okay.
Chic Vegan:  Let's talk beauty. What's your favorite cruelty-free product?
The salesgirls at LUSH all rejoice when I come in because I shop so much!  I'm crazy about their skincare and have recently discovered the I Love Juicy shampoo that's fabulous!  Most of their products are vegan too.
Chic Vegan:  Where are the best vegan bargains?
I live in London and there are lots of vegan bargains here.  I love H&M and ASOS – so much vegan fashion for such a low price!  And I love London markets, where you can easily find a vegan bag for £17-20.