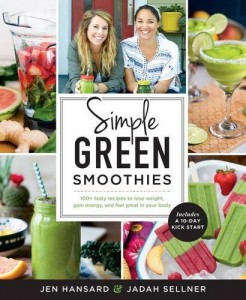 Like many health-minded vegans, I enjoy a good green smoothie. I have about five or six favorite smoothie recipes that I cycle through, and I tend to get sick of them if I repeat them to often. Fortunately, I know have Simple Green Smoothies: 100+ Tasty Recipes to Lose Weight, Gain Energy, and Feel Great in Your Body.
Authors Jen Hansard and Jadah Sellner met as first-time moms on the playground. They were not eating well, struggling with post baby weight and yearning for more energy to keep up with their little ones. Together, they discovered how to make a delicious green smoothie. They instantly became hooked and immediately went from exhausted and defeated to energized and empowered. The more they drank green smoothies, the more their bodies craved fruits and vegetables. They began sharing their recipes as @SimpleGreenSmoothies on Instagram and the obsession quickly caught on to now over 382k followers. Lucky for us, they've compiled their recipes into a book.
Simple Green Smoothies starts out with advice on how to begin the healthy habit of drinking daily green smoothies, as well as reasons why, such as increased energy and a strengthened immune system. There's a blender guide to help you choose the right one for you, and there's even a handy chart to show you the order of placing smoothie ingredients into your blender for easy blending. The authors also share their green smoothie formula, so readers can create their own blends, as well as tips for easy smoothie prep, saving money at the grocery store, and much, much more.
The book has a 10-day smoothie kick start, complete with a shopping list, which is designed to help you begin your green smoothie lifestyle. There's also a chapter dedicated to smoothie boosters, such as superfoods, herbs, and nut butters.
The rest of Simple Green Smoothies is dedicated to the recipes. And there are so many of them! There are smoothies that will help boost your energy, smoothies for fuel your workouts, kid-friendly smoothies, dessert smoothies, smoothie bowls, and more! There's even a chapter with DIY recipes, so you can make your own nut milks, vanilla extract, almond butter, and granola.
In addition to recipes, the book is packed with gorgeous photos. I found myself amazed at how creative photographer Lindsay Johnson was with a subject matter, considering the fact that most green smoothies look the same!
If you're looking for new, creative smoothie recipes, Simple Green Smoothies is for you! If you're hoping to add more veggies into your diet, boost your energy, and strengthen your immune system, you need this book! Simple Green Smoothies will help you kick-start your healthy 2016 new year's resolutions!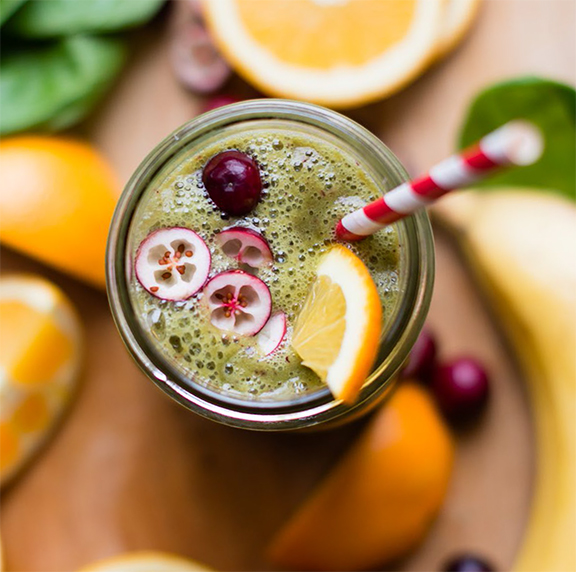 Cranberry Citrus Blast
Serves two
Ingredients
2 cups fresh spinach
1 1/2 cups filtered water
1/2 cup cranberries*, fresh or frozen
2 oranges, peeled
1 banana
Directions
Blend spinach and water together until smooth.
Add remaining ingredients and blend again.
*Can substitute cranberries with pomegranate seeds or any type of berries.
Reprinted from Simple Green Smoothies by Jen Hansard & Jadah Sellner. Copyright (c) 2015 by Jen Hansard and Jadah Sellner. By permission of Rodale Books. Available wherever books are sold. Food photography by Lindsey Johnson.