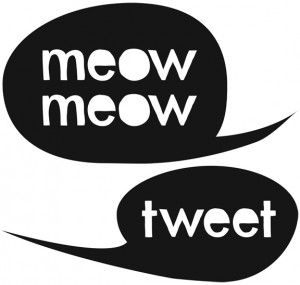 I got to know Meow Meow Tweet last year when Vegan Cuts sent me their holiday gift pack to review, and I've been hooked every since. I love their deodorant cream and lip balm, and both products have become regulars in my daily routine. When I was asked if I wanted to review their new Relief Balm, of course I said yes! Knowing that I had surgery recently, co-founder Tara was kind enough to include a sample of their Repair Balm in the package as well.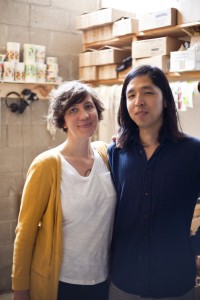 If you aren't familiar with Meow Meow Tweet, let me introduce you. Meow Meow Tweet was founded by Tara and Jeff, and is based in Brooklyn, NY. They are a small batch natural vegan apothecary, and they develop all of their goods as if they were modern culinary dishes, starting with a scent combination – and they do indeed smell good enough to eat.  Meow Meow Tweet products are made with organic plant oils and butters, steam distilled and cold-pressed essential oils, and organic and wildcrafted botanicals. All of Meow Meow Tweet's good are made with plant-based and food grade ingredients, and they never use any nasty chemicals or additives. Since our bodies absorb what we put onto our skin, I think it's best not to use any chemicals we wouldn't want to ingest on it, don't you?  Most of their products come packaged in class jars or metal tins, which are covered in wrappers adorned with adorable illustrations created by Jeff.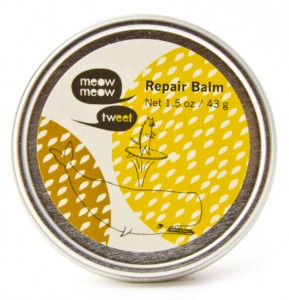 As I mentioned, I had surgery last month, and I know have a massive scar on running down my abdomen. I've been on the hunt for a product that will help it heal quickly, and while I know not too many are going to see it, I would prefer if it wasn't so pronounced. Enter Meow Meow Tweet's Repair Balm. Tara tells me that the myrrh and vetiver essential oils in the Repair Balm are known to be great for repairing and fading scars, as well as protecting against infection. In fact, myrrh has been used since ancient Egypt to promote healthy skin. The balm also contains  shea butter and sesame oil that have walloping healing and moisturizing powers, as well as camomile which is known for it's calming properties. Since everyone's sensitivities are different when it comes to essential oils, Tara suggested that I start out by applying a little bit of the balm to a small part of my incision to see how it felt before rubbing it all over the entire thing.  She also said that I should warm the balm up with my fingers so that it would rub on  gently and not tug at my skin, which is in a very sensitive state right now. I'm pleased to report that the Repair Balm has been working very well! I haven't had any sensitivity issues and the balm soaks into my skin right away, unlike the vitamin E oil that I tried – which left a stain on my t-shirt. It has been soothing to my raw skin and it has a nice light, herbal scent that I like.
Meow Meow Tweet's Repair Balm isn't just for scars. It's good for any type of dry or cracked skin, and after the harsh winter we just endured, I'm guessing most of us are in need of it. It can be used to help get those dried, cracked feet ready for sandal season, as well as to soften rough elbows and feet. It can be used as a spot treatment on blemishes, as a salve to soften tough cuticles and as a moisturize for dry hands. It's also excellent for soothing new tattoos and smoothing chapped lips. This one balm does almost everything!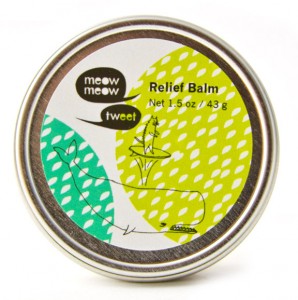 What Repair Balm doesn't do, Relief Balm can step in and take care of. The Relief Balm smells cool and minty, which just happens to be a scent combination I love. Since I've been in recovery mode, I haven't done much in the past month other than lie on the sofa with my cats watching television and taking naps. You may not realize it,but inactivity can be kind of rough on the muscles! Meow Meow Tweet's Relieve Balm is an all natural alternative to Tiger Balm (but without the nasty paraffin!) and has been soothing on my achy back and shoulders. 
Relief Balm is also an excellent petroleum-free alternative to VapoRub, as the essential oils of thyme, clove, cajeput, eucalyptus and peppermint will provide relief for both a stuffy nose and a congested chest. This balm can also be rubbed in to the temples and the back of the neck to sooth headaches, and it can be used to calm sore joints and subdue itchy bug bites.
Visit the Meow Meow Tweet online store for their Repair Balm, Relief Balm and the rest of their product line: meowmeowtweet.myshopify.com
Photo of Tara and Jeff by Danny Rico.