After chocolate chili, this is probably my favorite recipe, like…ever. Believe it or not this dish is simple to make and requires minimal cleanup. All the meat-eaters in my posse love this dish too. It probably has something to do with the fact that it is filling, hearty and oh yeah..delicious! Could you ever doubt that an amazing recipe like this could come from anyone other than Susan V over at Fat Free Vegan Kitchen? Of course not! She is the queen of innovative and healthy recipes that are realistic for people with not much time on their hands.
Behold, the most delicious creation that will ever depart from your oven:

Ingredients
1 18-ounce package prepared polenta or 1 recipe of Quick Microwave Polenta
1/2 large onion, chopped
1 large portabello mushroom, cut into 1/4-inch pieces (about 2 cups, chopped)
4 cloves garlic, minced or pressed
1/2 bunch kale (about 8 ounces after trimming), center rib removed and chopped into bite-sized pieces (may substitute spinach or other greens)
1 teaspoon dried basil
salt and pepper to taste
Cheese sauce (below)
1 1/4 cups marinara sauce (homemade or in a jar)
1/4 cup pitted kalamata olives, chopped
vegan soy parmesan
"Cheese" sauce:
1/2 cup extra-firm silken tofu
1/2 cup unsweetened soy milk
1/2 cup vegetable broth
2 tbsp. cashew butter or tahini
1 tsp. onion powder
1 1/2 tbsp. nutritional yeast
1/2 tsp. salt (optional)
1/8 tsp. white pepper
2 tsp. corn starch
Directions
Preheat oven to 375° F. Spray the bottom and sides of a 8×8-inch baking dish with non-stick spray and set aside.
Place the cheese sauce ingredients into a blender or food processor and puree until completely smooth. Set aside.
Sauté the onions and portabellos in a non-stick skillet until the mushrooms begin to exude their juices. Add the garlic and sauté for one more minute.
Add the kale, basil, and 1/4 cup water. Sauté until the kale is wilted and tender and the water has evaporated. Add the cheese sauce and cook, stirring, until thickened. Check seasoning and add salt and pepper if needed. Remove from the heat.
Cut the polenta into 1/4-inch thick slices. Line the bottom of the baking dish with half of the slices, overlapping slightly if possible. Spread 1/2 cup of the marinara sauce over the polenta, and then spread the kale mixture over the sauce. Sprinkle the chopped olives over the kale and top with the remaining polenta. Spread the remaining marinara sauce over the top and sprinkle with soy parmesan.
Bake for 25 minutes. Remove from oven and allow to cool for 5 or 10 minutes before serving.
Makes 6 servings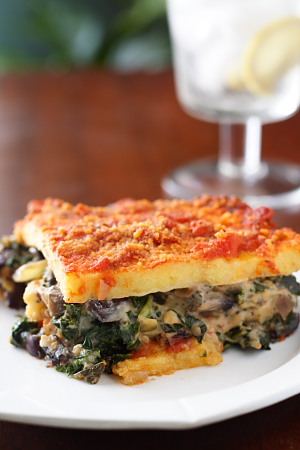 *Recipe and images property of Fat Free Vegan Kitchen