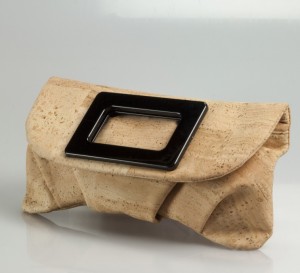 I have to admit that when Queork asked if they could send me one of their vegan cork handbags to review, I was a bit skeptical. I had visions of broken bulletin boards and crumbling wine stoppers falling inside my bottle of riesling.
A bag made out of cork?
How could that work?
Would it be durable?
Would it crack?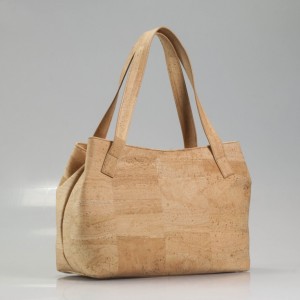 My Lil' Easy bag arrived in the mail a few days later and I was pleasantly surprised to find that not only was it gorgeous, it was… dare I say "supple"? I am quite happy with the size of it, as I like to be able to carry my camera and a notebook with me, and they both fit nicely inside. I was also happy that the bag has several pouches and pockets inside. An organization freak like me needs separate pockets for her belongings. Even though I was immediately pleased, I decided to give it a try for a few days to see if it could hold up to wear and tear. Where ever the bag has gone, it's received compliments. I've even caught friends touching it see how feels. I'm happy to report that it's held up to being hauled around town with my camera, and items I needed for a food demo. It's also been through both snow and rain and come out unscathed. My Queork Lil' Easy bag gets two thumbs up!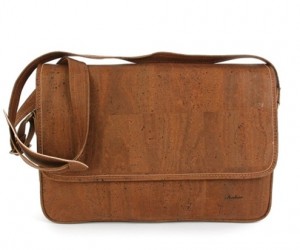 Queork (pronounced "cork") is a New Orleans based company owned by Amanda Daily and Julie Araujo. It started as an internet sales company that sold products imported from Portugal. In April 2012, Amanda and Julie visited Julie's family home in Estoril, Portugal where Amanda sought a collar for her dog Walter, with no luck. She found a cork manufacturer who agreed to make one but it would have cost $500. Amanda visited several pet stores to see if they'd be interested in carrying cork dog collars. Cork is mildew resistant, water resistant, hypoallergenic, waterproof, and it even repels mosquitos, so it's the perfect material for a collar for man's best friend. Retailers took interest, so the $500 dog collar was produced. From that first run, Amanda and Julie had more products manufactured, and Amanda's obsession with cork grew. She was given the nickname "The Queen of Cork", and the name was shortened to "Queork".
Queork now sells bags, shoes, and accessories such wallets, belts, and iPhone cases, along with their original dog collar. All products are made using genuine cork fabric.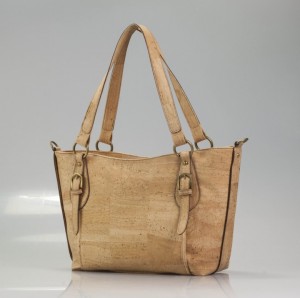 The cork used in Queork bags is harvested from the bark of the cork oak tree, which is found mainly in coastal areas of Portugal and Spain. It is the only tree in the world that does not die when the bark is removed and the tree is not harmed by removing the bark. The bark is boiled to make it soft and thin layers of it are then glued to a cotton backing. The fabric is sealed using a clear silicone sealant. This sealant creates a protective layer over the outside of the cork fabric so that it's protected from stains and scratches. It also makes the fabric very easy to clean with just a sponge and water. Cork is naturally water and stain resistant and the fabric is durable and soft – almost like suede or soft leather. And of course, cork is vegan.
For more information on Queork and to see their full product line, visit their website at Queork.com.