Taking care of my skin is an ongoing journey and I think as I get older I'm definitely getting wiser.  Long gone are the days I spent scrubbing my face with harsh chemicals in hopes that I would have perfectly clear and dewy skin.  Yeah, that never happened.
These days, I turn to skin products that have fewer ingredients and ones that I actually recognize.  I've even jumped on the oil trend and use jojoba daily.  Oil isn't always the enemy my friends and I'm here to say my face is NOT covered in acne like I was sure it would be when I first started.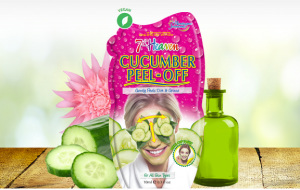 In addition to my gentle cleansers, I've started making my own face masks out of things like avocado, charcoal, and turmeric.  So when I was given the chance to try 7th Heaven's Cucumber Peel Off Mask I was excited.  Yes, I like to make my own stuff as much as possible but sometimes convenience and ease is welcome.  Plus, peel off masks are fun!
The key ingredients in this mask include pulped cucumbers and juiced citrus that help clean and refresh your skin without stripping your natural oils.  Remember, oils are your friend!  The mask also has ingredients like ginseng, Vitamin E, evening primrose, and jasmine all which help hydrate and repair your skin and it's vegan.
I tried this mask the first night I got it.  It was extremely easy to use and all I had to do was clean my face, apply the mask and then wait.  It took about 20 minutes for the mask to dry completely, so make sure you don't use this when you have to be somewhere in a hurry.  Once it's dry you get to do my favorite part, peel it off.  It doesn't hurt and comes off fairly clean so you aren't left with random patches.  It felt like I was peeling off all the grit and grime of the day.  After a quick rinse, I was left with soft and refreshed skin.  Very nice!
7th Heaven has a TON of face masks from mud masks to peel off masks to clay masks.  They even have exfoliating masks and infused fabric masks.  Pretty much any mask you could ever want you can find it with 7th Heaven.  Not all of their masks are vegan, so make sure you check the label and ingredients first.  Another thing I like about these masks?  You can find them in a variety of places like Walmart, Bed Bath & Beyond, HEB, and Kroger as well as online.  They're generally $1.99, which is a great price for a face mask.
So if you want to have your own spa day at home or want a little extra pampering each night, give 7th Heaven's Cucumber Peel-Off Mask a try!