I never know exactly what to wear after my favorite pole dancing class. I'm sweaty and tired, but I don't want to put on a thick sweatshirt because I'm still hot (as in temperature- I do live in Austin, Texas after all), and yet I want to cover up a bit with something that looks cute and breathes. Typically after class I either go home or go to Whole Foods, so it needs to be cute, functional, and look like I'm not trying that hard. (Read, it should not seem like I give this much thought to the perfect vegan après pole dancing class outfit, even if I do).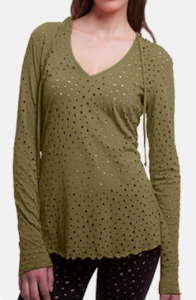 Enter Pima Doll, who generously sent me a few sample pieces from their collection to review. I'll start with my favorite one, The Fiona Hood (retails for $80) which fit the bill exactly for this occasion. Now you don't have to go to pole class to enjoy this, because it just rocks. It looks adorable over a tank top or sports bra and leggings or yoga pants (my preferred look), but could easily be worn with skinny jeans and cute shoes. I like things after class to be a slightly over-sized on top ala Flashdance, and this was perfect.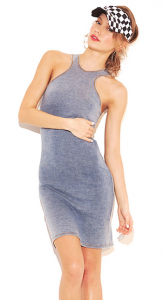 The other piece Pima Doll sent me was the Anna dress (retails for $60), a cute denim colored, soft as butter, slinky dress. Now it's not exactly sundress season yet, but this thing is so flattering that I need to find a place to wear it. It would be *perfect * as a cover-up or easy sundress in the summer, and I'm picturing it over a black or white bandeau bikini with espadrille wedges, (but suit yourself, no pun intended). So far I have only worn it around the house, but it is literally the softest thing ever and as my friend Marisa would say, "it does things."
I would definitely recommend Pima Doll to eco ladies who care where things come from and also want to look amazing. You can shop their whole line HERE.
.
Pima Doll is made primarily with 100 % pure Pima cotton. As one of the finest cottons in the world, the material gets softer with each wash. The collection includes several hand knit pieces made from reused shredded pima cotton.
var addthis_config = {"data_track_clickback":false,"data_track_addressbar":false,"data_track_textcopy":false,"ui_atversion":"300"}; var addthis_product = 'wpp-3.5.9';