Today is the best day of the year for any devoted vegan foodie. Not only is it World Vegan Day, but it is also the first day of Vegan MoFo (The Vegan Month of Food).  Every Monday for the month of November I'll be posting a recap of the food I have eaten, links to recipes, blog love and maybe even my own recipes if I decide to live on the wild side. If you have a recipe you want to share here, please email me – I'd love to feature you!

Since today is the first day of November I don't have much to share with you food-wise. However, I did make one of my Big Ass salads today: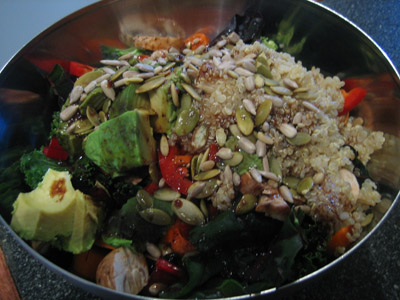 I pretty much put every vegetable in my kitchen in this bad boy. Kale (the most beautiful kale I have ever seen, FYI), Rainbow chard, carrots, red jalapeno, mushrooms, avocado, quinoa, pumpkin seeds and sunflower seeds. I typically make my own dressing, but lately I have been using Lucini Italia's Fig and Walnut Vinaigrette which I lovelovelove! (Lucini Italia is the company that makes Cinque.. the amazing chickpea frittata that I use as pizza crust.)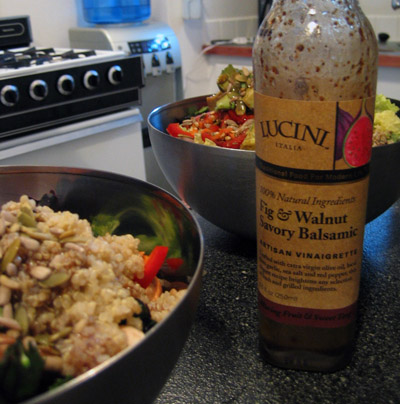 The other day I made the coconut, black bean and corn soup from Vegan Yum Yum. It turned out more like a chili, but that is okay because it was delicious! I will definitely be making this many more times this winter, although I will probably use fresh beans instead of canned. Canned beans give me the yuckies.
On a related note, can someone please ask Lauren Ulm (Vegan Yum Yum) to start blogging again? I need new yum yums!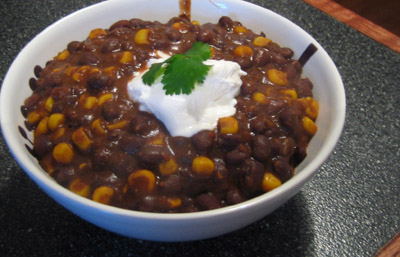 If you are looking for some great blogs to follow this month, here is a list of my faves (I urge you to check out the blog roll and discover your own!):
Go have a wonderful World Vegan Day, you crazy kids!