Link Party!
Happy Friday everyone! Here are some things that have struck my fancy this week.  If you want these links and others in a more timely fashion, then follow Chic Vegan on Twitter.
Movie Night
About 4 months ago I moved out of a tiny cramped apartment to a house in a nice little suburban neighborhood with my handsome, charming and wildly intelligent boyfriend (he reads this).  He is mostly omnivorous but respects, and completely supports my lifestyle choices.  He either loves vegan food or does a great impersonation of someone who does, and that makes me a happy girl. My brother, on the other hand is an unfortunate victim of the SAD diet, but we love him all the same. I recently decided to not let this whole house go to waste and that hosting a movie night with my two fave boys would be a great way to spend quality time, as well as an opportunity to expose my brother to the wonderful world of healthy eating.  So far it has been a success.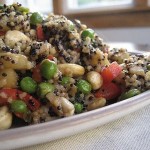 This past movie night was a lovely dinner of pineapple cashew quinoa from Veganomicon, pistachio crusted tofu from Fat Free Vegan, and roasted garlic broccolini and brussel sprouts. The quinoa was amazing and my brother loved it. He was not to keen on the tofu..this is my second attempt at getting him to enjoy it. I guess some people just aren't tofu eaters.  Loverface had seconds of everything as usual. Of course I thought everything was yummy, but I was particularly impressed by the quinoa (god i love quinoa). What a great recipe.
We watched The Empire Strikes Back. This is probably my brother's 39845734587th attempt to get me to watch the Star Wars trilogy. Its finally working, and I love it. Next Week: Return of the Jedi.
Next week will be Middle Eastern food like baked falafel and tabouli. The week after will be thai food. Does anybody have any particular recipes in mind that are loved by omnivores?
Do you frequently entertain non-vegans?
*tofu image courtesy of fatfreevegan