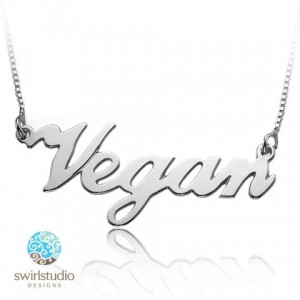 The SwirlStudio Designs "Vegan" necklace is a treat any vegan fashionista in your life – or even for yourself! These necklaces are handmade by Isabelle from SwirlStudio Designs, a jewelry artist who has been creating personalized pieces for over a decade. Sarah created this design to encapsulate the idea that being vegan is not only compassionate, ethical, and healthful, but also chic and glamorous.
When I asked Isabelle what inspired her necklace design she said, "Vegan living is not just a diet, but a lifestyle, and I feel strongly that cruelty-free fashion is just as important as a cruelty-free diet. The mission of this necklace is two-fold: both to promote healthy, compassionate living to others and also to remind the wearer daily of the importance and beauty in ethical living. The word "vegan" is on a path to becoming more than just a label or dietetic description, and I hope this necklace furthers the initiative to do so."
The SwirlStudio Designs "Vegan" necklace is available in either sterling silver or 18K gold plated over sterling silver from Swirl Studio's Etsy store. You're in luck because Isabelle is generously giving a necklace one lucky Chic Vegan reader. Follow the instructions below to enter. The contest ends at midnight EST on June 23rd. U.S. residents only, please. Good luck!