As traveling vegans know, some cities are vegan food hotspots. Others, you're just hoping to find something vegan to eat while you visit and see the sites. Fredericksburg, Texas, is not known for its veg scene. However, during a recent trip I found plenty of good stuff to eat. It just took a little looking, and some extra communication with restaurant personnel.
Located about 90 miles west of Austin, Fredericksburg's strong suits are wine and history. Dozens of wineries operate around Fredericksburg and the surrounding Texas Hill Country. Personally, I'm not a drinker. But I spent three fascinating days delving into Fredericksburg's history.
German immigrants arrived in the 1840s; I met quite a few fifth-generation descendants who still identify strongly with their German roots. History highlights of my visit included a tour of the old Lutheran cemetery, visits to Saint Mary's churches (an old one and a new one – beautiful stained glass), a pioneer museum and the LBJ Ranch.
But I promised vegan food, right?
August E's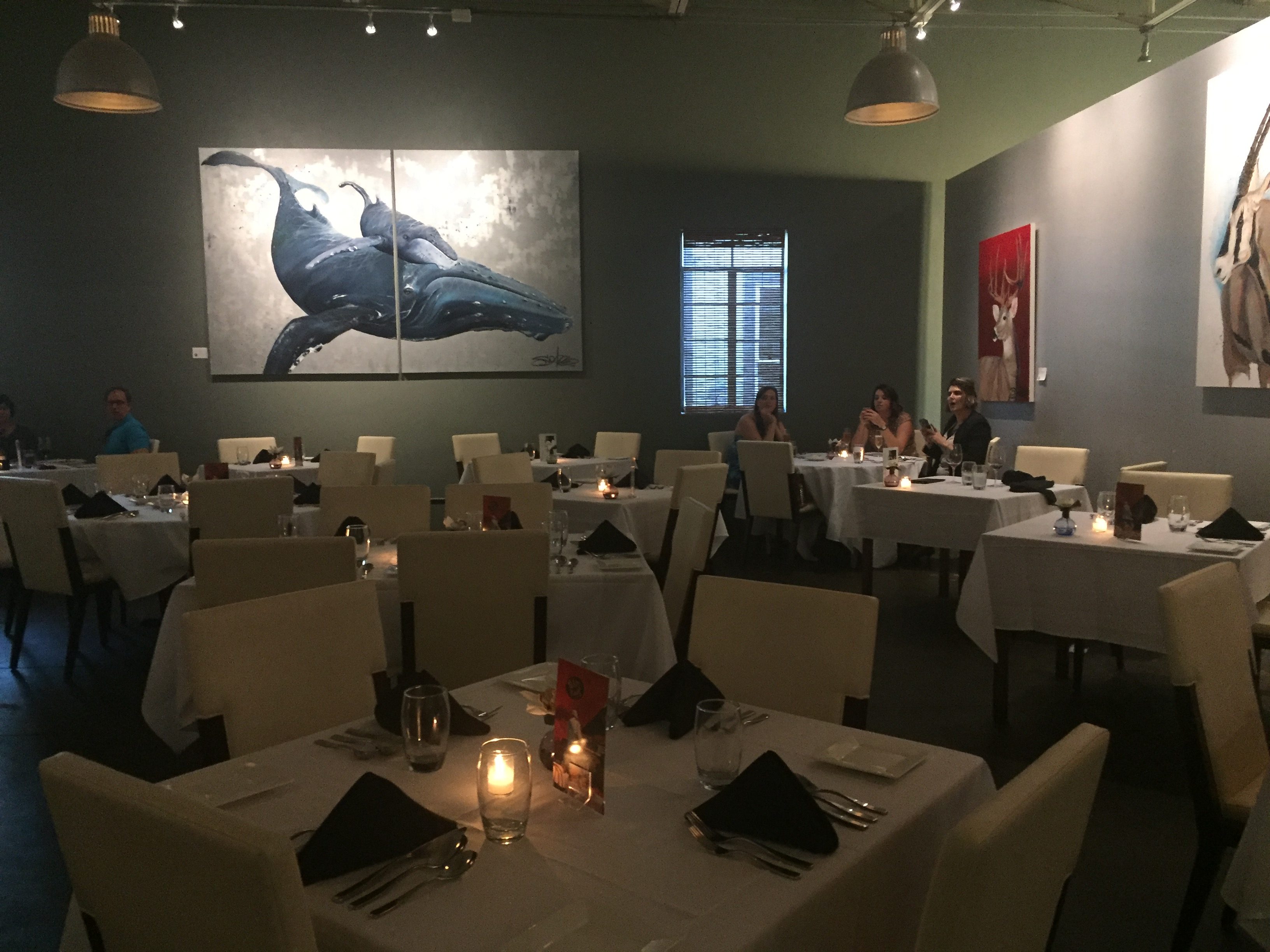 Dawn and Leu Savanh co-own this upscale restaurant with modern, minimalist décor. Dawn has a background in marketing and hospitality. Leu is a chef from Thailand. The restaurant has been open for 13 years now, and takes its name from the historic August Ebers family homestead.
"We buy the best ingredients, and source from local farms," Dawn said during my visit. The Savanhs have a one-acre farm at their home.
Dawn said they were going for a high-end feel, but not so fancy that people would only visit on special occasions. "It's not 'we want to see you once a year.' We want to see you on a regular basis. It's a Cheers location with white table cloths."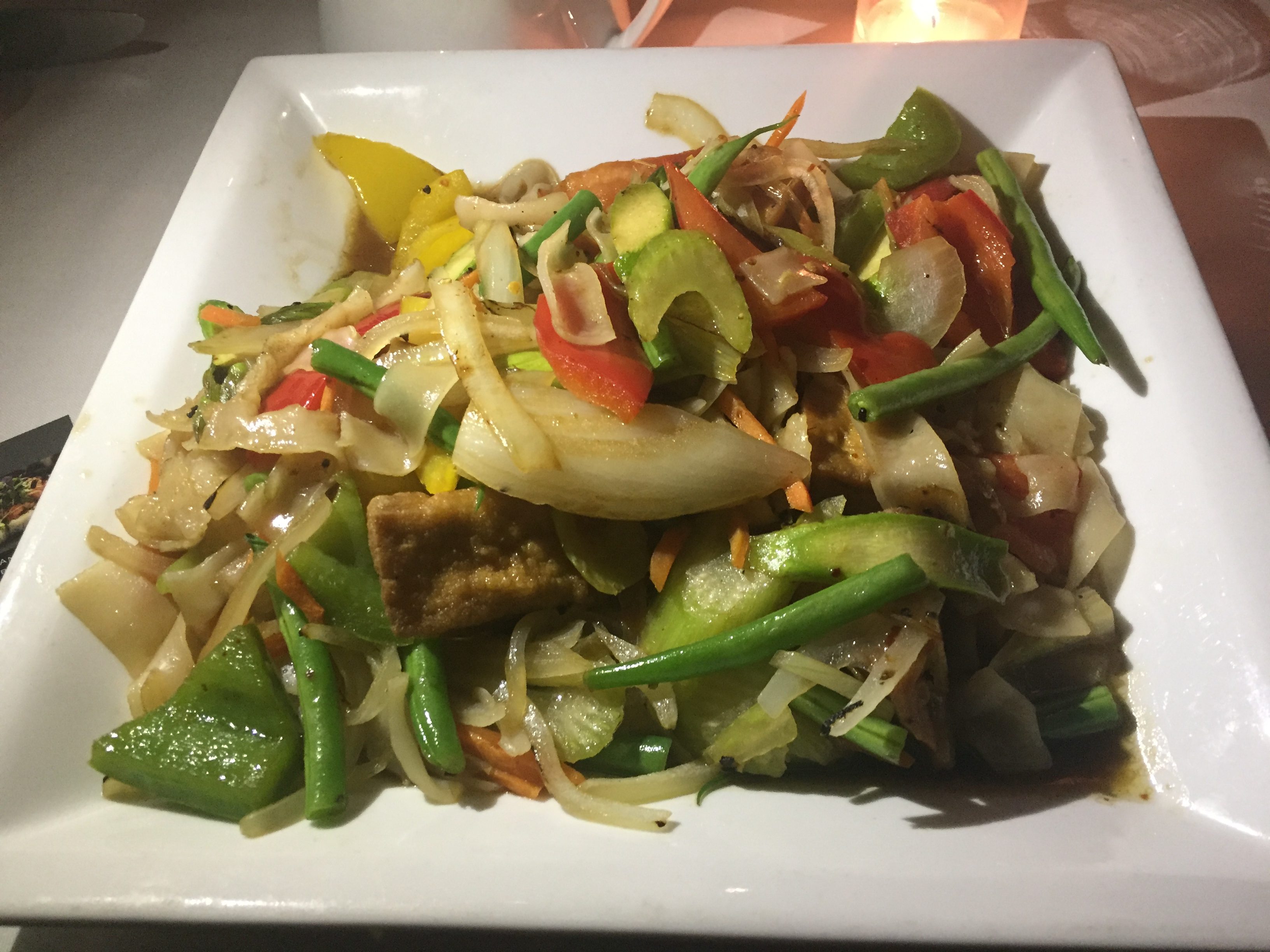 But what about vegans, I asked her. They get some vegan customers–mostly tourists and a few locals who go vegan for medical reasons. "We always have something vegetarian and something vegan on offer," she said.
I ate at August E's on their weekly Thai Tuesday. On Tuesdays, you can order off the regular menu or from a special Thai menu. I got spicy Thai noodles with vegetables. They even found tofu for me!
Dawn is also proud of the restaurant's art program. They change out the work of Texas artists every two months. In their 13 years, they've exceeded one million dollars in art sales.
West End Pizza Company
Janet Degenhardt opened West End Pizza Company eight years ago. "It was a necessity for the city," she said. The town had lots of German restaurants, but they needed variety. Her two kids were young at that time so they wanted a family-friendly restaurant. West End features an outdoor patio and game room to keep the kids busy.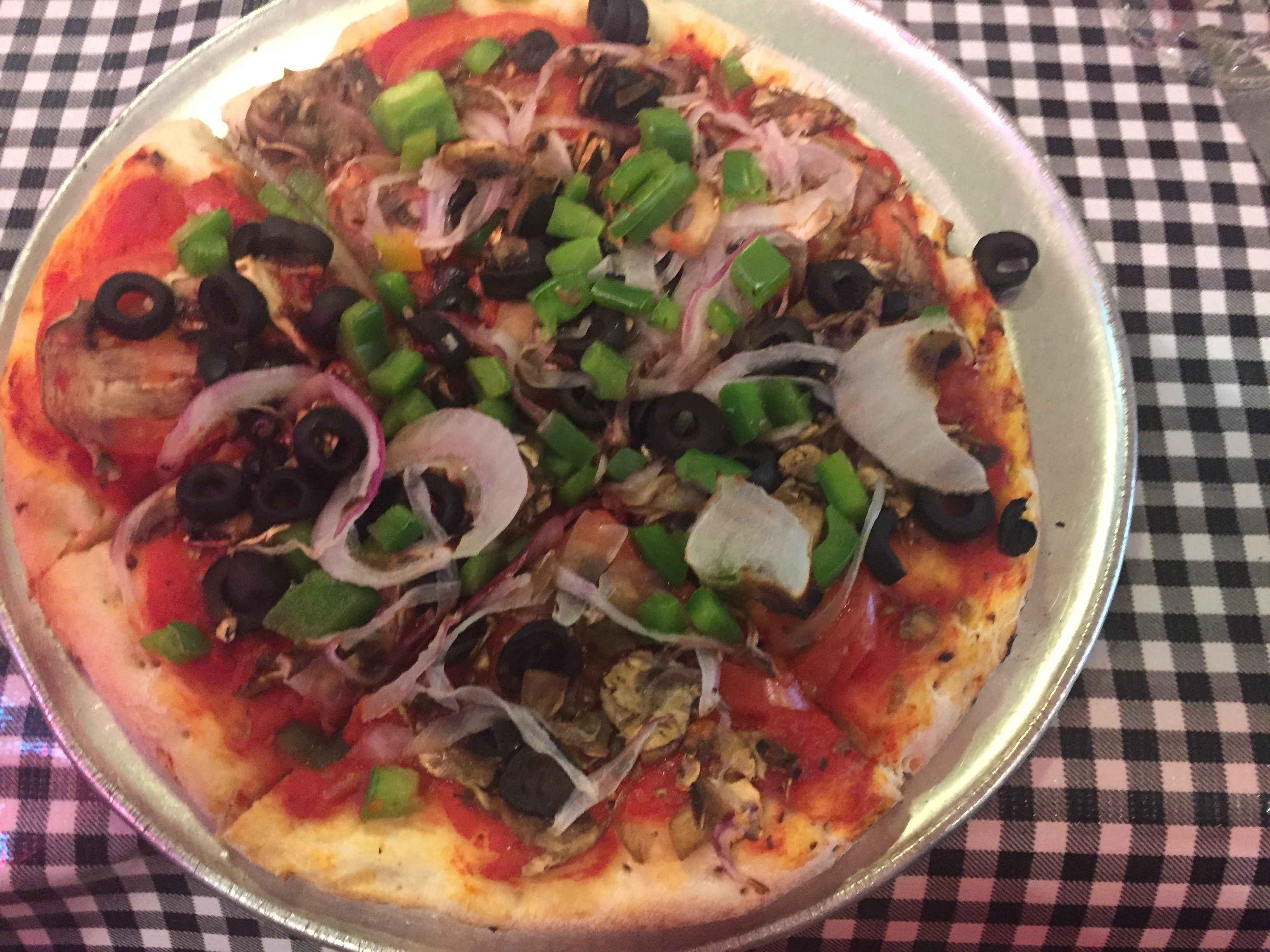 Homemade is a priority here, whether it's dough or sauces. "If I go to a restaurant I want somebody else to have cooked for me, rather than opening a can," Degenhardt said.
The restaurant has grown from 15 to 35 hardworking employees. They're open seven days a week, and only take three holidays all year.
West End is happy to make a vegan pizza upon request. Your crust will be topped with homemade sauce and lots of fresh veggies. Or order the spaghetti with marinara.
Baron's Creekside
After developing a system for packaging muesli with yogurt, Swiss food scientist Daniel Meyer made enough money to sell his business and travel the world indefinitely. He wandered for four years, then grew tired. He was traveling from Los Angeles to Florida in an RV when he passed through Fredericksburg. "I decided to build Little Switzerland in Texas," he said.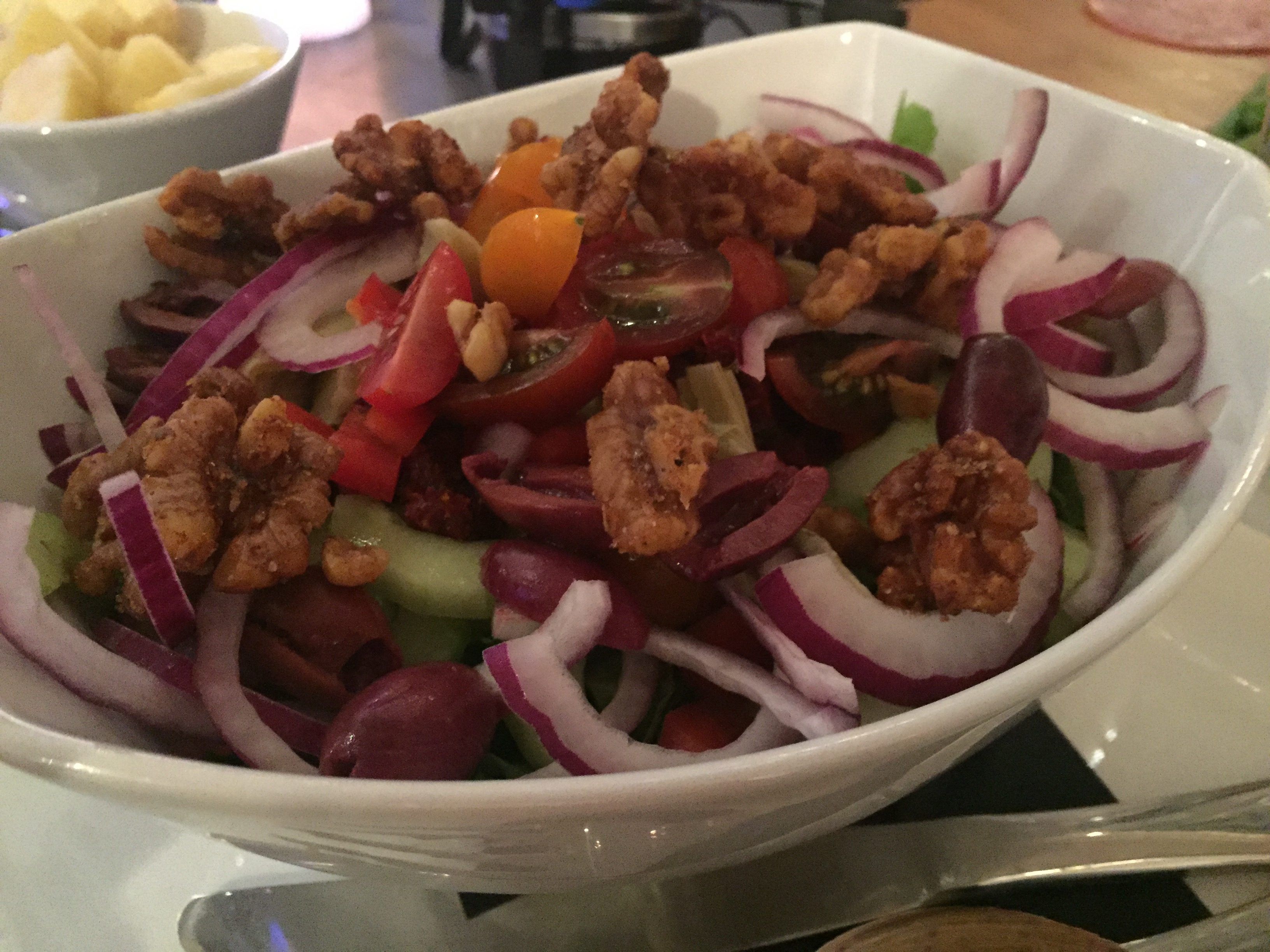 Meanwhile, back in Switzerland, his five-story, 250 year-old farmhouse was about to be destroyed. So he had it dismantled and shipped to Fredericksburg to be reassembled into 11 cabins.
Do you get the impression that Daniel is an eccentric character? That he is, but also gregarious, kind and charming. When I visited the restaurant at Baron's Creekside, he seemed to know every person in the place by name. I got the feeling that every single ordinary night felt there feels like a big party.
The menu is kind of small, and I thought I might go hungry. No way. They customized a big Greek salad to make it vegan. And the platters of appetizers and fondue fodder they brought out included lots of crackers, nuts, asparagus spears, apple slices, raw mushrooms – well, I ate more than enough. I'd also recommend staying here, if possible, in one of the wacky Swiss cabins. Each is distinct, and an artwork unto itself.
Otto's
This chic restaurant's frequently changing menu usually has a vegetarian item or two, but ask and they will customize for vegans. It was a big night for me when I visited, because Chef Adam Yoho created a vegan Portobello schnitzel just for me. Top-notch ingredients and lovely presentation made this a memorable meal at Otto's.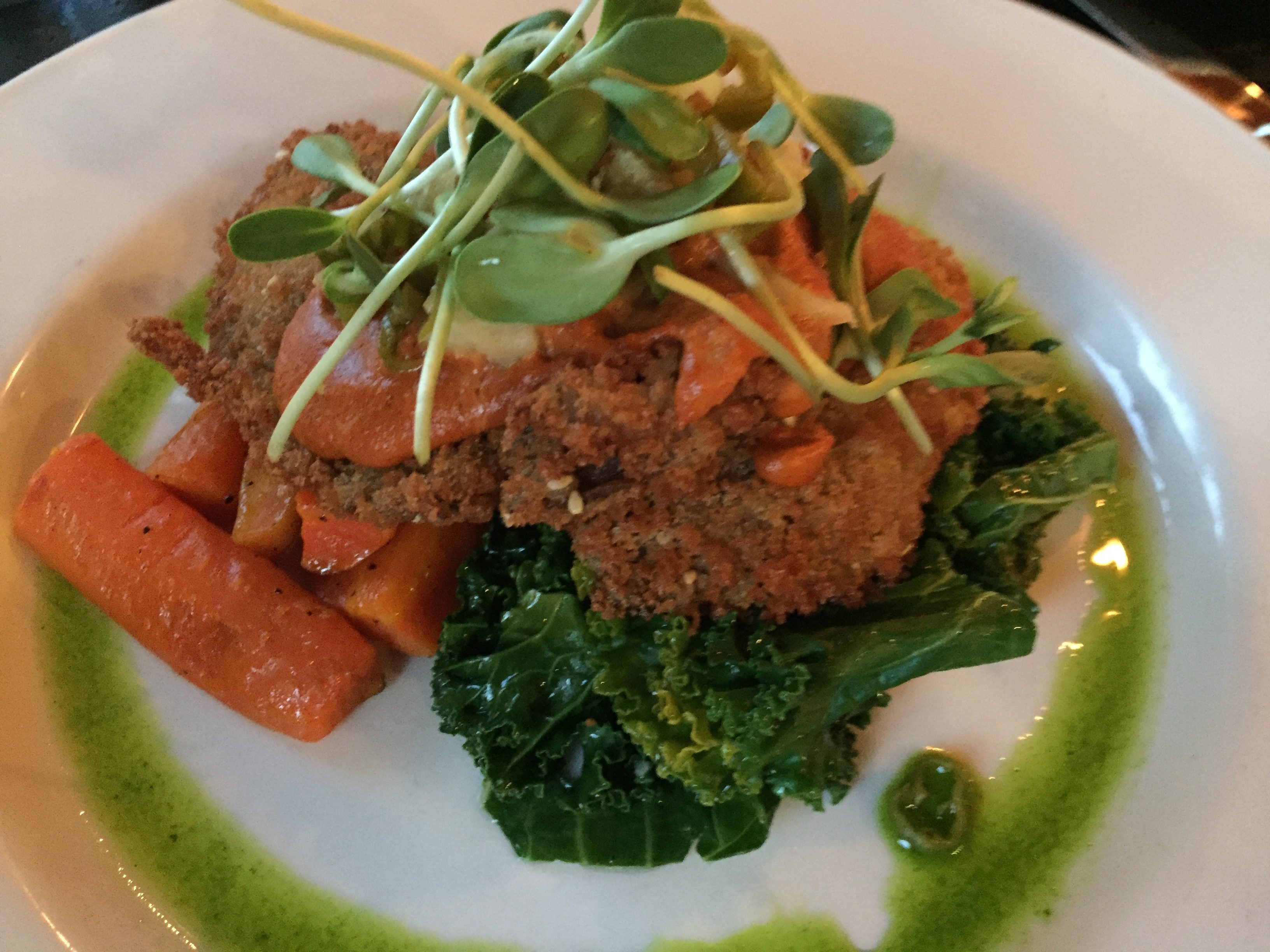 Das Peachhaus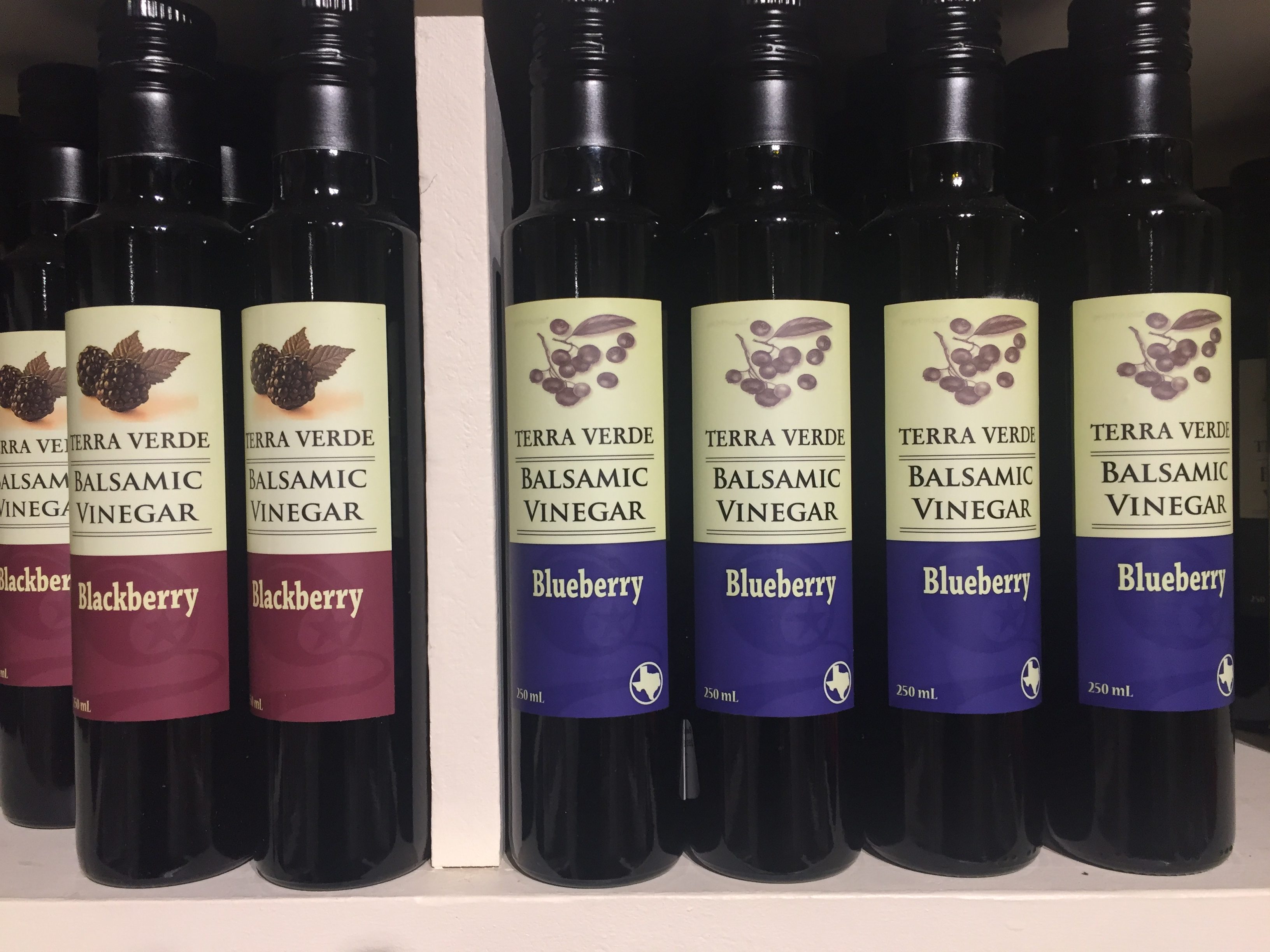 Want some food souvenirs? Das Peach Haus has tons of sauces and jams that are appropriate for vegans. This country market has a new culinary arts classroom in back, overseen by celebrity chef and food writer John DeMers. He's published 56 books! A New Orleans transplant, DeMers is extremely friendly and enthusiastic, and willing to create special classes for any dietary restrictions. So if you had a little group of vegans, DeMers could put together a really fun class for you. His regular classes include German, Tuscan and New Orleans cookery.