When Nice Vice had a pop-up store in an outlet mall, one customer came in and tried sample after sample, raving about the dessert. But when his wife said it was awfully good for nondairy, the man became irate. He threatened to sue owner Chris White for false advertising.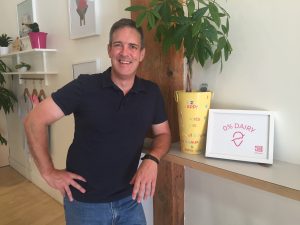 Good luck. White calls his frozen treat "vice cream." While the Canadian government regulates the amount of dairy fat one must include to call a product "ice cream," the term "vice cream" has no such definition. And it sounds much tastier than "non-dairy frozen dessert," the term the government wanted White to use.
Trading Vices
Before White was in the dessert biz, he had a drug problem. In fact, his new vocation sprang from his experience at a recovery house called Last Door. One of the challenges of recovery is finding social activities that don't involve drinking. "Everyone went out for ice cream," White said. But that didn't make him feel so good. "I started saying, what's going on with my stomach?" It turned out he was lactose intolerant.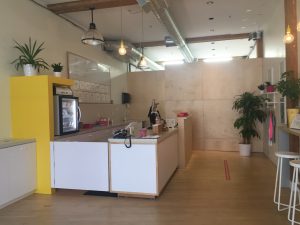 White started researching dairy-free ice cream, then making it as a hobby. In his druggy days, he grew pot. Now he turned the part of his brain that enjoyed the technical and scientific aspects of production to non-dairy desserts.
One day his son said, "You should start a company and call it Nice Vice because now you have lots of nice vices."
White got serious about his education, attending Ice Cream University in New York. This school is run by Malcolm Stogo, widely known as the "grandfather of ice cream." After many years of making cream-based delights, Stogo turned his skill to making delicious non-dairy desserts.
White graduated from ICU, then returned to Vancouver to launch his business. After a successful popup store in a mall, he found a permanent home in the entertainment-heavy Yaletown neighborhood in February 2016.
The Product
Most non-dairy desserts are coconut or nut-based. But White didn't want to exclude people with nut allergies. So he found an unusual base: sweet potato milk. He got the idea while reading a German Reader's Digest that talked about women during World War Two making frozen desserts from potatoes, something they had in abundance. His base is a blend of sweet potato, brown rice milk and coconut milk. "It makes us different from anyone else," he said.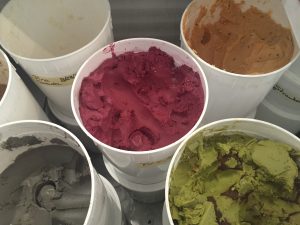 For the product to melt properly, you need at least 15 percent sugar. White tries to keep the sugar content as low as possible. "It's not a health product, but I don't want to over-sugar." He adds superfoods like pea powder protein, lucuma, hemp and oats.
Some of the flavors are familiar, such as banana fudge or vanilla fudge swirl. But many are unusual – watermelon hibiscus, raspberry navy bean fudge, matcha avocado, and some are downright weird. Earl Grey bergamot with activated charcoal tastes pretty good, as long as you can stomach gray ice cream.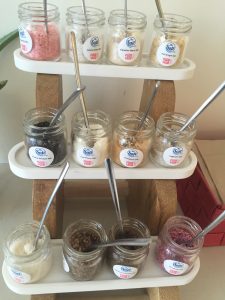 Nice Vice also features a salt bar. One of White's friends produces many flavors of salts, including Thai ginger, lime, hellfire and lavender. "I could never get salted chocolate or caramel right," White explains, so he decided to let customers go DIY. The salt bar is a huge hit. On Friday nights, a mob forms around the salts, experimenting. "They'll try every different salt," White says.
One Cone at a Time
Even though Nice Vice is Canada's first vegan ice cream store, White avoids the "v" word. The militancy associated with veganism is bad for business. As it is, many people don't realize when they step into the shop's white, airy interior that the dessert is plant-based. Sometimes they figure it out when they're almost to the counter. "We call it the invisible line," White says, describing the place customers freeze and suspiciously ask, "What's in it?"
At Nice Vice, White plays down the politics and pumps up the deliciousness. "We're trying to change the world one cone at a time."