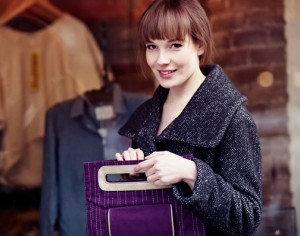 If you're looking for that perfect vegan gift this holiday season, look no further. The Canopy Verde Pomelo Clutch combines style with sustainability, using organic cotton, eco friendly dyes, and animal free "leather." Great for a weekend brunch date, cocktail party, or just as an everyday bag to hold all your essentials. You'll love all the thoughtful details, from the wood trims to the bright orange lining. 
Canopy Verde handbags are the creation of Linda Wong, who lives and works in Brooklyn with her husband and two toddlers. She draws inspiration from a wide range of influences, from nearby Prospect Park to the clean lines of modern Danish furniture. Growing up in a traditional Chinese household, she learned not to waste from an early age, often wearing her brother's hand-me-downs and being mistaken for a boy. She has brought the same philosophy to Canopy Verde – each handbag is built to last, season after season.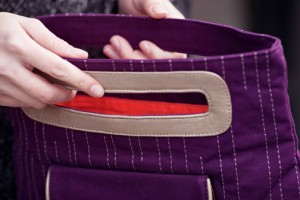 Canopy Verde is also offering Chic Vegan readers a special discount for the holidays – get 25% off any style with code "chicvegan25″!
Canopy Verde is also generously giving away one Pomelo Clutch to a lucky Chic Vegan winner.  Follow the instructions below to enter. Contest Ends at midnight EST on December 1st. US Residents only, please. Chic Vegan and Canopy Verde may contact you in the future.
var addthis_config = {"data_track_clickback":false,"data_track_addressbar":false,"data_track_textcopy":false,"ui_atversion":"300"}; var addthis_product = 'wpp-3.5.9';