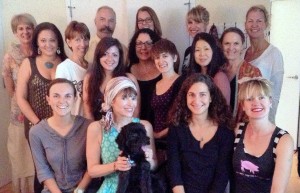 How does this sound?  Five days in New York City, eating great vegan food, meeting like-minded people from all walks of life, and learning about health, the environment, cooking, fashion, and animal welfare?  Does that sound like a great experience to you?  What if, at the end of this great experience, you graduate as a Certified Vegan Lifestyle Coach & Educator?
Would you jump at the chance to do this?  I sure did.  The first time I heard about Victoria Moran's Main Street Vegan Academy, I knew I had to attend.  It took me a while to coordinate my schedule so I could take the time to go, but I'm happy to say that I attended her most recent session in August.  It was time well spent.
In case you haven't heard about it, Main Street Vegan Academy is run by the wonderful and ageless Victoria Moran.  Victoria is an author of numerous books, including "Main Street Vegan," which serves as the foundation of the Academy's curriculum.  Victoria is a great writer and an amazing speaker, as well as a gracious hostess – she's truly a lovely woman.
The Academy is offered four times a year.  Currently, the tuition is $1,595.  Have no doubts, you get your money's worth.  The days are long and intense.  The curriculum covers health and nutrition, cooking, animal rights, the environment, and more.  There are lectures and Q&A sessions, which are led by Victoria and others involved in the vegan movement.  Victoria also provided some wonderful home-cooked meals.  A highlight for me was an emotional presentation by Kathy Stevens of Catskill Animal Sanctuary.  Her stories about the various residents of the Sanctuary moved many of us to tears.
Aside from the in-house education experience, we also ventured out for a day of exploring, visiting great places like Moo Shoes and Vaute Couture (which included a long talk by the adorable Leanne Mai-ly Hilgart herself).  And our group was fortunate enough to attend a fundraiser for Woodstock Farm Animal Sanctuary.  The special guest at this gala was Kristin Lajeunesse of "Will Travel for Vegan Food," who recently completed her two-year trek across the country.  The gala included amazing treats made by up-and-coming chef Jay Astafa.  We were also able to attend Vegan Mainstream's Business Bootcamp for a day, another amazing experience, where we learned how to bring our businesses to a new level.
To be honest, my head is still reeling from everything I learned.  I left the Academy on Sunday, after receiving my certificate, and spent most of my trip home reviewing my notes and jotting down memories of my experience.  Not only did I have one of the best "vacations" of my life, I met some truly wonderful people and I walked away feeling even better about the choice I made to live a vegan lifestyle.  If you want to help others transition to a vegan lifestyle, or if you just want to learn and grow, Main Street Vegan Academy is for you.