Outdoorsy people descend on Grand County, Colorado in the winter for skiing and other snow sports. In the summer, mountain biking is king. Two hours northwest of Denver, and at least a thousand feet higher, Grand County is beautiful country. But if you venture up to these high elevations, where's a vegan to eat? Here are seven good options.
Stillwater Grill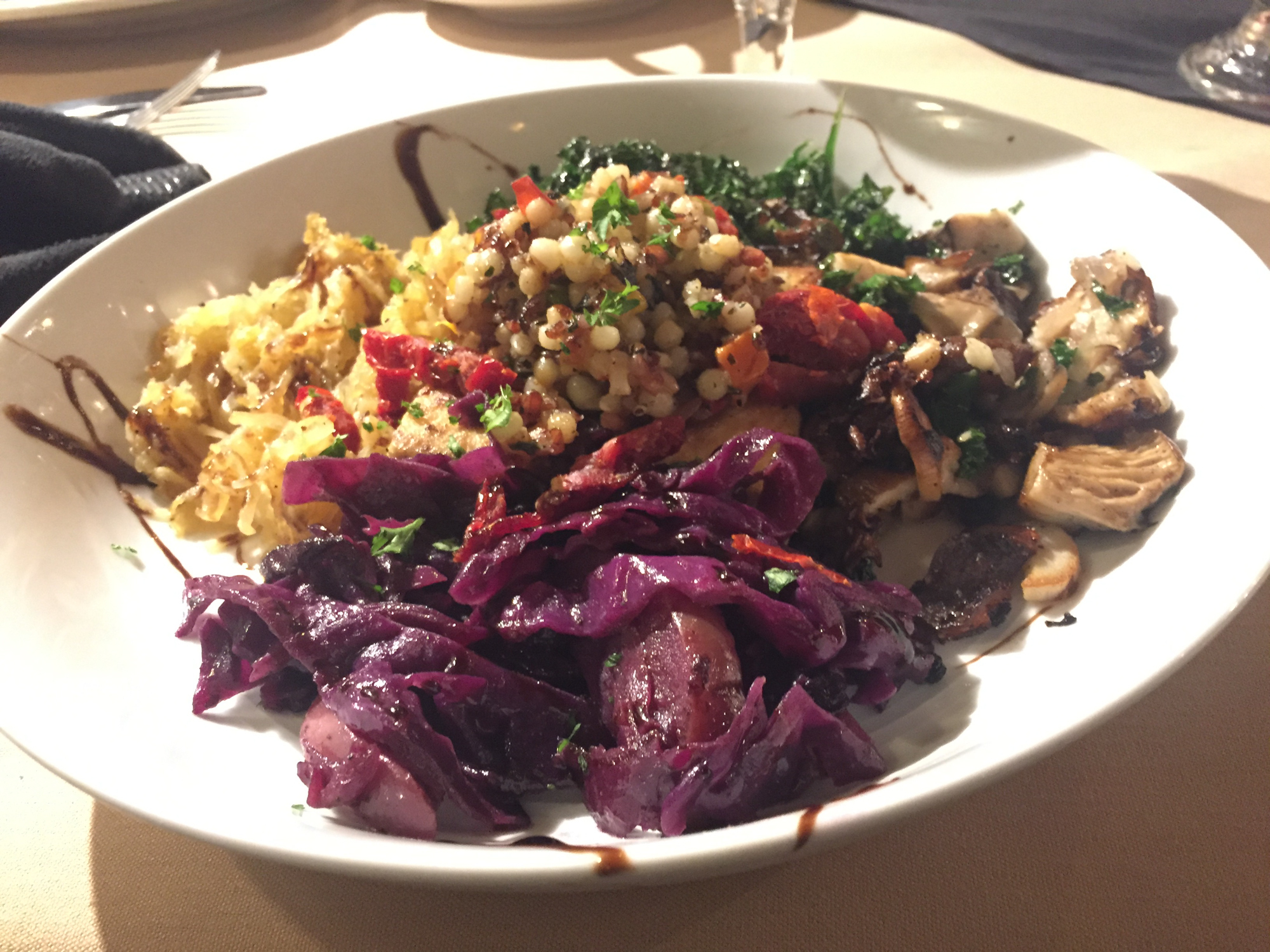 A farm-to-table restaurant owned by a French chef in the little town of Grand Lake? Yes, it's true. Jean-Claude Cavalera owns the pretty Stillwater Grill. On a Saturday night, there was even live piano music. Vegans are in luck here with the vegetables Napoleon, a good-sized chunk of baked tofu surrounded by servings of kale, red cabbage, spaghetti squash, mushrooms and quinoa with a balsamic drizzle. I also ate a side salad of baby greens, spinach and dried Colorado cherries. Chef Jean-Claude stopped by our table to say hello. "Oh, I didn't realize you were here," he said to my friend who lives in the area. "I was in the kitchen, cooking. I love to cook." And it shows in his food.
Fat Cat Cafe
My first morning in Grand Lake, Colorado, I surveyed the buffet at the Fat Cat Cafe and was relieved to see a vat marked "vegan green chili." Paired with fried potatoes and a bowl of fruit, it looked like I'd have a good vegan breakfast. But it only got better. "Anybody have dietary restrictions?" Sally Hoffman, the proprietress, asked my group. When I told her I preferred vegan food, she said she'd bring me something special.
The plate of Sally's mush –"it's better than it sounds," she assured me – was a hit with my whole table. Walnuts and crumbled black bean patties topped a plate of spring greens. It was way better than I expected from a mountain town in late January buried under several feet of snow. But even in the chill of winter, Sally doesn't cut corners. She makes all her pies and scones from scratch, and is choosy about ingredients. She doesn't allow margarine, iceberg lettuce or alcohol on the premises.
Snow Mountain Ranch YMCA of the Rockies
How often have I seen soy milk on top? The only times I can remember are at the Portland VegFest, and at the Snow Mountain Ranch YMCA of the Rockies. And a choice of chocolate or vanilla Silk, no less. My group stopped here for an early breakfast. Vegans will appreciate the grits, fried potatoes, granola and other dried cereals. The extensive fruit choices included fruit salad, cantaloupe slices, half grapefruits, and whole bananas and pears. Everything is served buffet style.
Sagebrush BBQ and Café
Once a courthouse and jail, this café retains an Old West feel, with cow-spotted table cloths and peanut shells carpeting the floor. The giant menu has several veg options, including a veggie burger, salads and green chili. I opted for the Sagebrush's veg nachos with refried beans, veggie chili, black olives, jalapenos, tomatoes and guacamole. The half order was more than I could eat, especially after stuffing myself on peanuts.
Devil's Thumb Ranch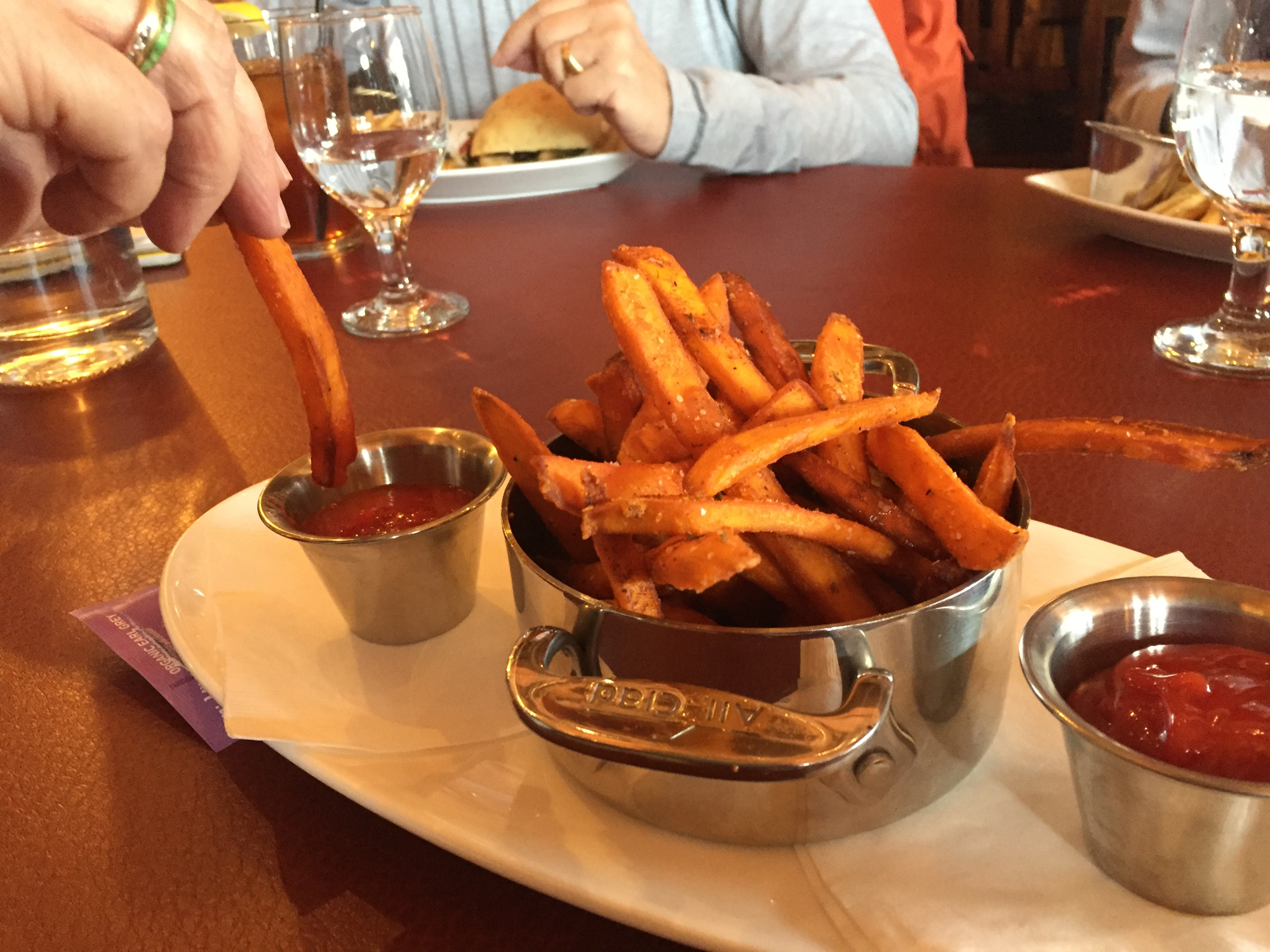 I wanted to stay for a week on this gorgeous six thousand acre property. From the grounds to the ski instruction to the spa, this is one divine place to visit. I stayed for most of a day, and ate both lunch and dinner at Heck's Tavern. An enormous stone fireplace is the centerpiece for this hexagonal restaurant done up in mountain lodge décor and modeled after Timberline Lodge in Mount Hood, Oregon. Veg menu highlights include a kale and quinoa salad or a Portobello mushroom sandwich for lunch, and a quinoa and veg combo topped with curried cashews for dinner. Don't miss the sweet potato fries with house-made red pepper ketchup. Devil's Thumb also has its own branded hot sauces in both red and green.
Hernando's Pizza Pub
Diners sit on long, picnic table style benches, the walls are covered with decorated dollar bills left by customers, and the house slogan is, "Life's too short to eat bad pizza." Hernando's will celebrate its fiftieth year in business in 2017. But it's up-to-date enough to offer modern options like gluten-free, white or whole wheat crusts, rolled or thin, traditional pizza sauce or brushed with olive oil, basil and garlic. And they didn't bat an eye at my request for a vegetarian pizza with extra sauce and no cheese. Pasta and salads also available for the veg-inclined.
Sloopy's Grill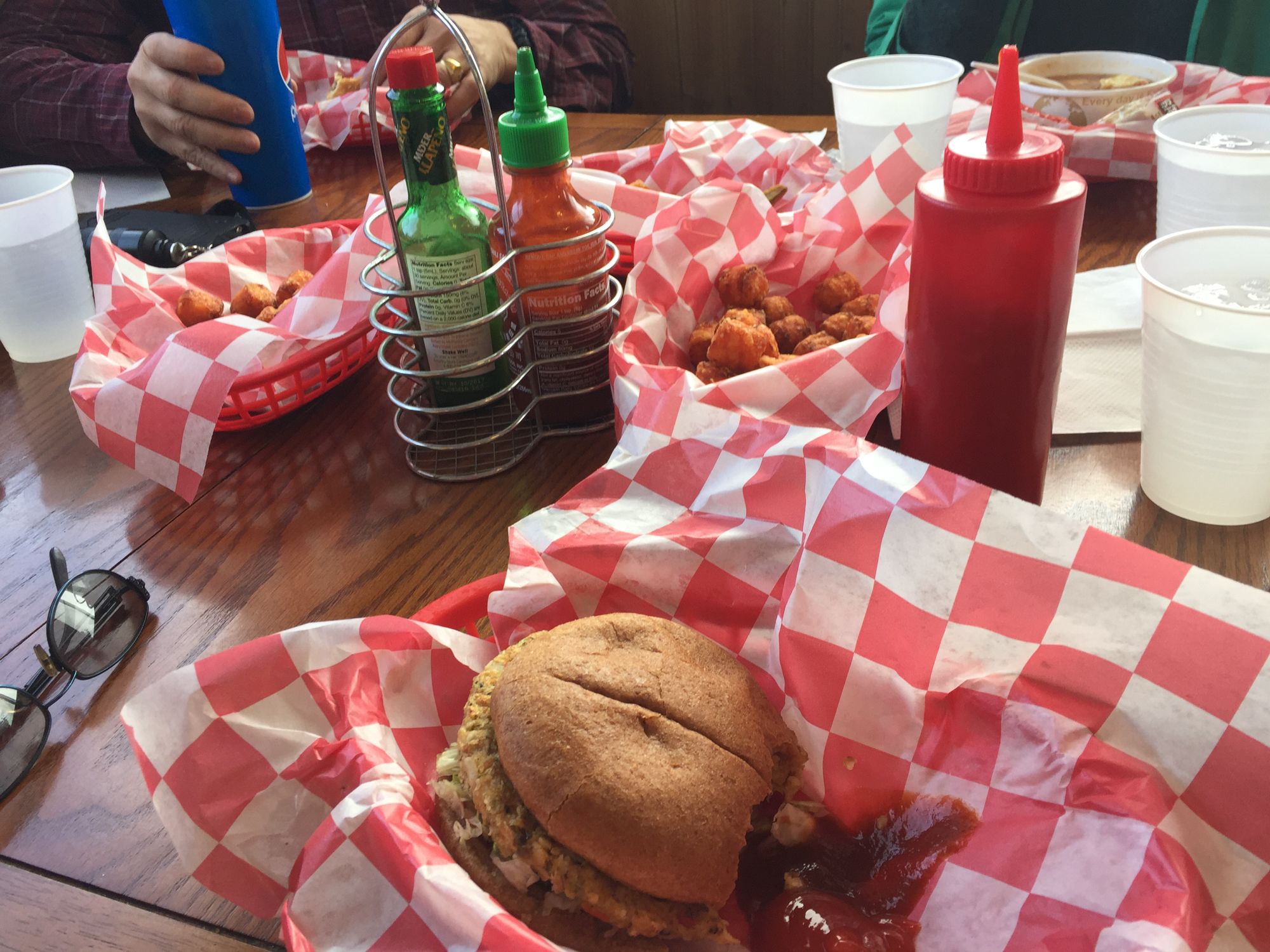 This roadside burger joint near the entrance to Rocky Mountain National Park reminds me of somewhere I would have stopped on a family vacation as a kid. However, back then you wouldn't have found a veggie burger on the menu. Pair Sloopy's vegan burger with sweet potato fries or tots and you have a meal. Fun display of old-fashioned snowshoes, skis, sled and other winter gear on the wall of this narrow log cabin of a restaurant.